Holly Madison Planning a 'Kardashian-Sized' Family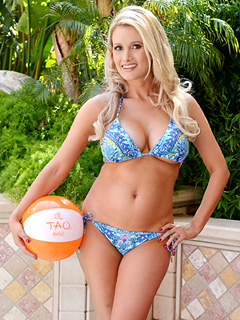 Denise Truscello/WireImage
Will E! have a show called Keeping Up with the Madisons in 20 years?
If everything goes according to plan, Holly Madison's family will certainly be big enough for that.
Having given birth to daughter Rainbow Aurora nine weeks ago, Holly and boyfriend Pasquale Rotella are planning on more children. A lot more.
"We want a huge family, like a Kardashian-sized family," she tells PEOPLE Saturday at TAO Beach's season opening. "I want to have three, then wait a few years for them to be older, then have another three."
The star of E!'s upcoming special Holly Has A Baby — which will air on Mother's Day — said she's "loving motherhood" but is still getting to used the fact that babies have a mind of their own.

"Things never work out the way you think they will," Madison, 33, says with a laugh. "Right now the spit-ups have started."
But the unexpected nature of motherhood is not nearly enough to sway Madison from her itch to have more kids, saying, "I want to be that minivan mom — the one piled full of kids."
— Mark Gray