Dannielynn Birkhead Gets Dolled Up for Kentucky Derby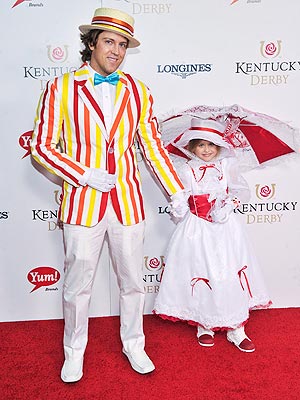 Stephen Lovekin/WireImage
Now that she's started a modeling career, it seems Anna Nicole Smith's little girl is taking fashion quite seriously.
Dannielynn, 6½, and her dad Larry Birkhead stopped by a lounge at the Kentucky Derby Saturday dressed in iconic looks from the "Jolly Holiday" scene of classic children's movie, Mary Poppins.
And it seems like it was all her idea. "Thanks Frankie Rodriguez for making the great outfits. Dannielynn wanted to come as this," Tweeted Birkhead, along with a photo of his daughter's inspiration.
After a quick search, we were able to find a similar version ($125) on Etsy. And if you're willing to splurge, there's a custom mini Bert costume ($350) also available.

Although super cute, we're not so sure about their over-the-top getups. But it is the Kentucky Derby, where the stars tend to pull out all the stops. One thing's for sure: Anna Nicole would definitely be proud.
TELL US: What do you think of Dannielynn and Larry's Kentucky Derby outfits?