Nick Lachey: Watching My Son Being Born Was 'Surreal'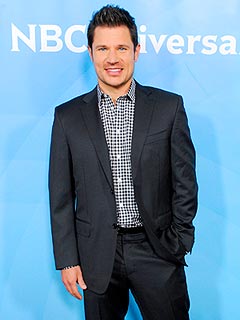 Gregg DeGuire/WireImage
Nick Lachey has always been good at finding all the right words to say (er, sing!), but the new dad still can't get over the first time he laid eyes on his baby boy, Camden John.
"I was [in the delivery room]. It was surreal, but one of the coolest things to ever see in your life," the singer and TV host tells Fox News.
"You're there with the woman you love, she's giving birth to your child. It's a pretty magical thing."
Completely head over heels with his 7-month-old, Nick — who shares Camden that is "into the belly laugh stage" — is basking in baby bliss, but promises not to push his own success on his son.
"[It] would sting a little bit [if he told me to stop singing], but he also has to be his own person. Whatever he's feeling I've got to respect him on some level," Nick, 39, says.
Having moved past her brief battle with the baby blues, wife Vanessa is reveling in her new role. too. "I think for women you've got all the hormonal changes, the breastfeeding," Nick says. "It's a lot to contend with — especially your first time. She's doing great though. She's a natural as a mother."
The doting dad has channeled all of his overwhelming emotions into his new album, A Father's Lullaby, featuring both classic and original tracks that shine light on his sentiments toward his son.
"Obviously, it was inspired by my little guy and all the feelings that came along with finding out you're pregnant and watching him being born, just a very emotional time," he says.
In the future, Nick may find himself penning more songs for his family; He and Vanessa are already contemplating adding another baby to their brood.
"I think we've talked about two more, but if the next one is a girl, it may be tempting to just have one of each," he says. "In a perfect world we'd have a couple of boys and then finish off with a daughter."
— Anya Leon