Linda Cardellini: Delivering My Daughter Was Difficult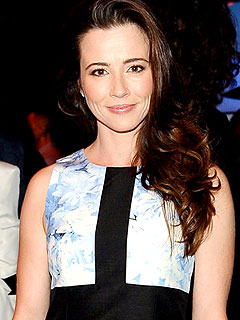 Stefanie Keenan/Getty
It's been a few fun weeks for actress Linda Cardellini, who recently made her surprise debut on the hit series Mad Men.
Her buzzy performance — she plays Jon Hamm's neighbor and mistress, Sylvia — is receiving praise and becoming a lively water cooler topic.
With her professional career at a high, life was much different a year ago when the actress and boyfriend Steven Rodriguez were expecting their first child.
"It was a very traumatic period," Cardellini, 37, tells PEOPLE. "I had a really scary pregnancy and a very difficult delivery. My daughter and I are lucky to be alive."

Cardellini — best known for her roles on TV's ER and Freaks and Geeks — was hospitalized with pneumonia and had several complications when she was nine months along.

When it came time to to deliver daughter Lilah-Rose in February 2012, "her heart rate dropped and she had the umbilical cord around her neck," explains Cardellini. "We had to do an emergency c-section. It was very intense and scary."
"I'm so grateful that my daughter is alive and so thankful that we've all come out of it," she says. "We often forget how dangerous childbirth is."
After the delivery, Cardellini ended up with a thyroid issue that became a major medical problem.
"I had to go on medication and because of that my weight fluctuated up and down in a really erratic way. It was hard to get a handle on it," she says.
Today, the Scooby-Doo actress is healthy and enjoying life with her toddler, now 14 months old.
"My daughter is very social and opinionated and likes to push her limits," says the doting mom. "Before she was even [a year old], she pointed to what clothes she wanted to wear. She's very persistent and she knows exactly what she wants even though she doesn't have the words to say it."
Cardellini adds, "She points and grunts and shakes her head and she does a few sign language notions."
So where does the little girl get these character traits? "I think she has a lot of her dad. She likes to do some mischievous things like him," says Cardellini with a laugh. "She also has that strong, independent vibe from me."
As for becoming a first time mother, she says, "I never realized what an enormous amount of love I could feel for someone. Suddenly now that I have this beautiful, innocent creature to protect, I've become more aggressive and become much more of a mama bear that I would have never imagined!"
— Paul Chi