Shakira: Nobody Told Me Diaper Duty Is So Demanding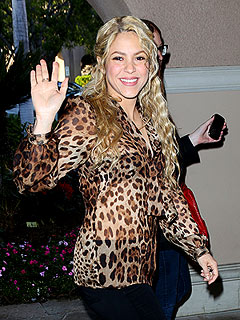 Jim Smeal/BEImages
Diaper duty is not Shakira's strong suit. Turns out, tending to son Milan's bathroom duties is what has shocked the pop star, 36, most about motherhood.
"I didn't expect babies to need so many diapers," Shakira told PEOPLE April 22 during NBCUniversal's press day at the Langham Huntington hotel in Pasadena, Calif. "Nobody told me they needed to be changed so often."
Potty talk aside, the new Voice coach says motherhood has its challenges, but she's managing just fine thus far.
"It takes a lot of energy from you," Shakira says. "But I love it. I'm really enjoying every bit of it. It's not as idyllic as everybody tells you — but not as horrible as everybody tells you. It comes with a full package. It comes with lots of joy and also lots of fear."

Luckily, 3-month-old Milan is "a great baby," the swiftly slimmed-down starlet shared.
"He's an easy one. He's very focused so far. I think he's going to have a lot of concentration because he focuses on anything I give to him or any little movie I play for him. He really watches."
But even on the rare occasion that her son gets too teary-eyed, the new mom has a tactic to make him calm down.
"When he's crying or gets a little irritated, I play him music and he stops crying," she says. "I play a little bit of everything. I play a little bit of rock and roll, some Latin music as well, so he gets acquainted with the music that I grew up listening to when I was back in the day living in Colombia. So apparently he's going to like music."
But the "Hips Don't Lie" singer admits parenting would not be as doable without the help of her right hand man, boyfriend Gerard Piqué.
"Thank God [Milan's] father has been really involved," Shakira says. "He's been amazing. The baby spends as much time with me as he does with his dad. He's the kind of dad who is full hands-on. He changes diapers; he enjoys bathing him. That's a real help for me."
— Davhi Shira