Matthew McConaughey: My Family Life Is Like a Circus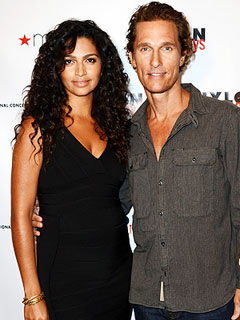 Michael Buckner/Getty
Fatherhood has left Matthew McConaughey feeling as if life has transformed into a true three-ring circus.
"We've got Levi, he's going to be an astronaut. He loves building airports all night long in the living room," the Mud actor said during a Monday appearance on Late Show with David Letterman.
"I get home from work, say 6 p.m. … Levi's building an airport, hanging things from the ceiling fan."
As for daughter Vida, 3, her sights are set on the fashion world, jokes the proud papa.

"Vida … has gone to her room and it's a fashion show," McConaughey, 43, says. "It's about eight different forms of dress and undress and headbands and angel wings and different shoes."

Fortunately, the youngest performer has yet to participate in the action. "Livingston's not doing that yet, he's not moving around much," McConaughey adds of his 4-month-old son.
Every big top needs a leader and for McConaughey, wife Camila is at the center of the show. "It's a wonderful time and I got a wonderful woman," he shares. "It's a circus at the house, but it's fun. She's the ringleader of that circus!"
Although McConaughey jokes that the family of five "get along pretty good so far," he admits the arrival of the couple's third child took the controlled chaos to a whole new level — times 100!
"It's true that third is not like you just added 33 and a third percent more — you added about 133 percent more with that third [baby]," he says.

— Anya Leon