Matthew McConaughey Tells His Kids Never-Ending Stories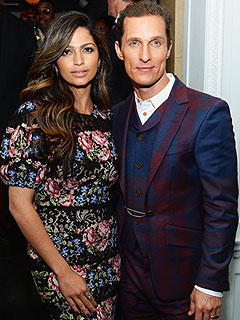 Dimitrios Kambouris/Getty
Matthew McConaughey is one busy dad. The actor recently shot three films back-to-back, but when he's not working, his most beloved activity is leading story time with his three children.
"My favorite thing is reading a five-minute story that turns into a never-ending story," McConaughey, 43, told PEOPLE at Sunday's Cinema Society screening of Mud, sponsored by Fiji Water, in New York City. "When it's story time and I get to the end, there's no the end. The kids hate the end!"
During story time, the former Sexiest Man Alive also creates his own imaginary tales for Levi, 4½, Vida, 3, and Livingston, 4 months. One original fable McConaughey tells includes a cheetah and a horse.

"What you learn when you have kids is that they think four-dimensionally," says the doting dad. "I'll tell them the story about a cheetah that ran and became friends with a horse and then a river came through and they were separated. Then I'll go, 'The end.' But Levi [replies], 'Well no, the cheetah grew wings and flew back over the river.' There's no ending, so it's on and on and on!"

His eldest child isn't just chatty in person — the Dallas Buyers Club star says his son likes talking on the phone when he's home with Camila in Austin as well.
"I'll have a 74-minute phone call with him," says McConaughey. "It's great and he's only 4!"
— Paul Chi