Jason and Molly Mesnick Introduce Daughter Riley Anne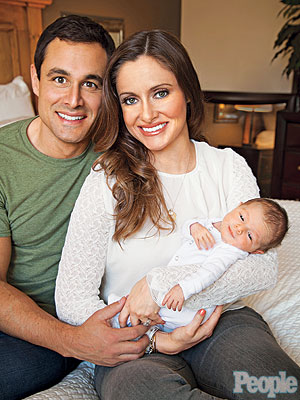 Alison Dyer
While their daughter Riley Anne is only five weeks old, Jason and Molly Mesnick already know they are no longer in charge.
"Riley has totally taken over this house," Molly, 29, tells PEOPLE exclusively. "She has clothes and toys and gadgets literally everywhere."
"I used to get packages all the time and then all of a sudden it flipped and it's all baby stuff.".
Of course Molly and Jason, who met on season 13 of ABC's The Bachelor and wed in February 2010, are happy about the new world order that's taken over their Kirkland, Wash. home.

"I love watching Molly with her — that awe of loving someone so much," Jason, 36, says.
Of course, there is one lingering issue, the Mesnicks joke.

"Jason got me a baby book and one of the pages is, 'How Mommy and Daddy Met.' That will be an interesting conversation, to say the least!" admits Molly with a laugh.
As will the story of the first-time mom's labor and delivery, which arrived two weeks sooner than expected when Jason decided to take matters into his own hands.
"I got a funny text message from a friend of mine who said that if I pinched an area between Molly's ankle bone and her Achilles, it would put her into labor," he says. "So as a joke I actually did this at about 10:30 at night — and about 3½ hours later, Molly went into labor."
The memorable moments didn't stop once the couple arrived at the hospital. Jason was tasked with the big gender reveal — the couple had kept baby's sex a surprise — but when the time came, the doting dad was equally in the dark as the rest of the room!
"I was kind of helping hold one of Molly's legs up as the baby was being delivered and I couldn't see the area where you would make the call whether it was a boy or girl," he says.
"All I saw was her butt and the doctor was asking me to call out whether it was a boy or a girl and all I could say was, 'I can't tell!' [I said,] 'Flip him or her over!' And then I saw and we had a beautiful girl."
Molly quips, "And that's when I started crying."
Riley joins big brother Ty, Jason's 8-year-old son from his first marriage.
Read more about the Mesnicks in the latest issue of PEOPLE, on newsstands Friday.
— Monica Rizzo