Isla Fisher: I Don't Want My Daughters Seeing Me Step on a Scale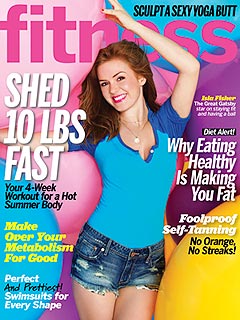 Courtesy Fitness
Mirror, mirror, on the wall, Isla Fisher accepts her body — curves and all!
Showing off her trim and toned figure on the cover of Fitness's May issue, the actress admits her reflection serves as a reminder of her greatest gifts rather than an opportunity to focus on her flaws.
"For me, so much about life is acceptance. You can look in the mirror and find a million things wrong with yourself," Fisher, 37, says.
"Or, you can look in the mirror and think, 'I feel good, I have my health, and I'm so blessed.' That's the way I choose to look at it. I don't need to be perfect."

Despite staying in shape — Fisher practices yoga five days a week — The Great Gatsby star is determined to take the attention off of her body. Her motivation to do so stems from being a mother to Olive, 5½, and Elula, 2½, her daughters with husband, actor Sacha Baron Cohen.
"I don't even own a scale," she shares. "I have two young daughters and I wouldn't want them to see me weighing myself all the time. I don't think it sends the right message."
However, the actress understands that a flattering figure comes with the Hollywood territory, and was up for the challenge when three months after the birth of her first child — and a 65 pound weight gain while pregnant — Fisher was due to begin filming Confessions of a Shopaholic.
"I had severe morning sickness both [pregnancies], so I mostly ate supersize bowls of white pasta with loads of butter and cheese because that was the only thing that took away the nausea," she recalls. "The producer Jerry Bruckheimer hired a trainer to work with me three times a week. That was both inspirational and terrifying because I didn't want to let the trainer down."
Daughters Olive and Elula may inspire their actress mama to embrace herself wholeheartedly, but they're also the reason behind Fisher's favorite body part: her tummy.
"Even though it will never be flat again, it's still my favorite because it reminds me of my greatest achievement: my babies!" the Now You See Me star says.
— Anya Leon