Portia de Rossi: 'You Have to Really Want Kids' – and I Don't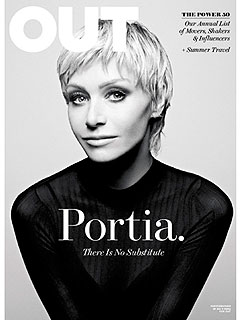 Courtesy OUT
They may have opened their home to a herd of horses, but Portia de Rossi and Ellen DeGeneres' weekend ranch won't be crawling with kids anytime soon.
After wondering whether they would ever expand their family, the native Australian actress says she believes a brood of babies just isn't in the cards for the couple.
"There comes some pressure in your mid 30s and you think, 'Am I going to have kids so I don't miss out on something that other people really seem to love?'" de Rossi, 40, tells OUT in their May issue. "'Or is it that I really genuinely want to do this with my whole heart?'"
According to the talk show host's wife, the answer was obvious.

"I didn't feel that my response was, 'Yes,' to the latter. You have to really want to have kids and neither of us did," she explains. "So it's just going to be me and Ellen and no babies — but we're the best of friends and married life is blissful, it really is."

Despite not having a baby, de Rossi still has plenty to keep her busy; Her once-canceled show Arrested Development is back on Netflix in May, with the actress reprising her role as Lindsay Bluth.
"We could trust the process because we know our characters and we know [creator] Mitch [Hurwitz]. But at the same time, everything was very spontaneous," she says of the show's second chance. "Some of the funniest stuff I have ever seen in my whole life is in this new season."
— Anya Leon