Nia Vardalos: Motherhood (Not Pregnancy) Was My Priority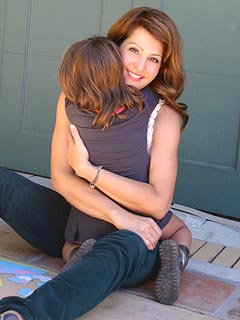 Jackie Tucker
After a decade spent struggling with infertility, Nia Vardalos admits that the last thing she ever wanted to do was write a book about motherhood.
"I'm a private person, who doesn't relish making her personal life public," Vardalos tells PEOPLE exclusively.
Earlier this month, the actress — whose My Big Fat Greek Wedding screenplay garnered her an Oscar nod in 2002 — held her breath as her book Instant Mom hit the shelves.
In it, she chronicles her quest to become a mother, a journey that involved 13 failed IVF treatments and ended in 2008 with the adoption of her now 8-year-old daughter Ilaria.

The experience, she insists, has transformed her — along with her husband, Cougar Town star Ian Gomez — into a crusader for the process of foster care adoption.

"I kept so much of what I went through quiet because of my feelings of failure," says Vardalos. "But now I realize that's truly ridiculous and I feel a responsibility to use my big fat mouth to talk about this issue."
Vardalos, now 50, admits that she wasn't prepared for the difficulties she encountered while trying to get pregnant.
"Like most women I thought it would be easy once I decided to start a family," she says. "I was surprised that Mother Nature kept poking me in the eye, saying, 'Nope, nope, nope.'"
The couple eventually turned to "modern science," but, following years of disappointment, finally gave up.
"Afterwards, the healthiest thing I did was take time off to grieve over what had happened," she recalls. "That brought a sense of clarity and I realized that no matter how I became a mother, I was going to be a mother."
Vardalos began to explore adoption, but after being placed on countless waiting lists and a run-in with a "celebrity adoption attorney," she grew disillusioned with the process.
One afternoon, she took notice of a billboard near her home that she'd driven past hundreds of times — but had never paid attention to — that introduced her to the concept of foster care adoption.
"I didn't understand what it was," she says. "All I thought was, 'I don't want to do that. The child will be placed with me, then eventually taken away.'"
Nevertheless, Vardalos was intrigued and what she soon learned changed her life. "In the United States alone there are some 135,000 kids who are legally emancipated and available for adoption," she says.
After months spent meeting with social workers, the couple was paired up with a 3-year-old girl who had been living in foster care since birth.
The moment she laid eyes upon the child, Vardalos knew she was meant to be the little girl's mother. "The first thing I did was whisper in her ear, 'I will always take care of you,'" she recalls.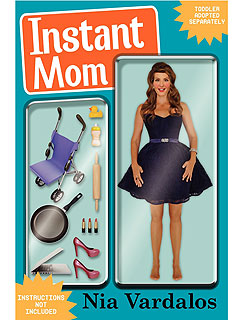 Vardalos's eventual decision to write Instant Mom quickly proved to be a "terrible year and a half. I hate writing and it was painful to go back over all this after the wounds had finally healed."
What resulted, she insists, is "the book I wished was out there when I was searching for credible information on adoption."
These days, Vardalos is busy juggling mom duties with film and TV projects. She's also gearing up for that fateful day when — and if — Ilaria ever announces that she wants to follow in her career footsteps.
"If that happens, I think I'm going to give her a pamphlet to dental technician school and see if that sticks," she says with a laugh.
"If that doesn't work, then I'll suggest a couple years in the Peace Corps. And if she still wants to do musical theater after that, I guess I'd say yes."
— Johnny Dodd