Elsa Pataky: I Hate to Dress India In Pink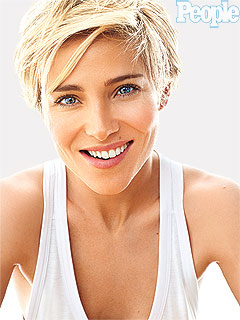 Peggy Sirota
Elsa Pataky is used to spending hours in the makeup chair, but with a baby at home the actress has been forced to improvise.
"Before, I could be in the mirror just looking at each eyelash," the Fast and Furious 6 star tells PEOPLE of her life before becoming a mom.
"Now, I have to learn to look good in a simple way in the morning. You just wash your hair really quick."
Time in her closet has also been limited for Pataky, 36, since she and husband Chris Hemsworth welcomed daughter India Rose last May.
"I have my daughter running around and I don't have much time [to say] 'This doesn't look good,'" says Pataky, who is featured as Beauty of the Week in PEOPLE's April 15 issue.

"I have to know what looks good already and just put it on and go."
The new mom has also extended her carefree fashion to her baby girl.
"I am the worst. I hate to dress her in pink and I don't know why I have to," she tells PEOPLE. "Even Chris is [saying] all the time, 'They think she's a boy! Can't you put her in something more girly?'"
But Pataky doesn't understand the fascination with making the sex of her daughter evident to everyone.
"You put them in pink so everyone knows it's a girl? Why? Just say it," she adds. "I think if you are a baby and they are already dressing you in pink, it will make you a princess. I just get blues and greys and whites — all different colors."
— Patrick Gomez