Second Child on the Way for Jimmie Johnson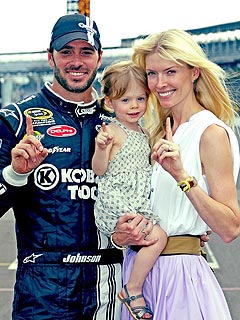 Courtesy Jimmie Johnson
Start your engines — Jimmie Johnson is expanding his family.
"We are so happy to share news that we're having another baby in September," the NASCAR champ, 37, announced on Twitter Tuesday. "Genevieve is so excited to be a big sister!"
Johnson and wife Chandra already have their hands full with their 2½-year-old daughter, who is a girly-girl — although she knows what Daddy does, as well.
"She is all girl … and I mean everything," he said recently."Down to her plate and her fork — it is all princesses [and] Cinderella. She watches racing and always asks, 'Daddy's race?' [though]!"
— Sarah Michaud