Chris Hemsworth: India's Into Surfboards Already!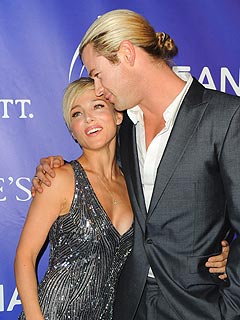 A. Ariani/Splash News Online
Chris Hemsworth has shown over and over he has a soft spot for his baby girl, India Rose. But he's not afraid to let her experience the wild side of life.
"She has an attraction to the surfboards in the house. She loves crawling on them," the actor, 29,  said Monday night at The Inaugural Oceana Ball at Christie's in New York City.
Hemsworth, along with his Australian brothers Liam and Luke, were passionate surfers growing up Down Under.
"We spent a lot of time in the water," he said. But "[India's not swimming] just yet. She's only 11 months!"
Still, he vows he'll start teaching her to surf— as soon as "she learns how to walk."

India's mom and Hemsworth's wife, actress Elsa Pataky, says their daughter is a natural in the water.
"She really loves surfboards," Pataky, 36, says. "We've taken her into the ocean already and she loves it."
But Hemsworth was quick to point out that his daughter goes into the water only "with support — not on her own!"
Both parents are advocates of Oceana's push to protect the sea, and Pataky says, "It's really important to us as a family, and as parents, to preserve the ocean. It's so beautiful, and so important."
Adds Hemsworth, "Especially as a parent, you start to see how important it is."
— Sara Hammel