Anne Heche's Blog: Yes, That Was My Child Screaming 'I Hate This Toy!'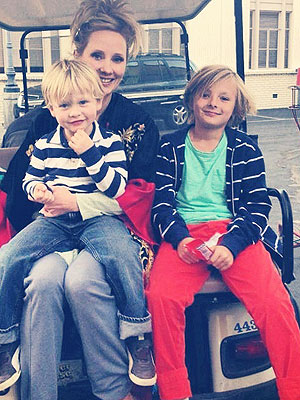 At work with mom – Courtesy Anne Heche
Thanks for welcoming our celebrity blogger, Anne Heche!
Best known for her roles on Men in Trees and Hung, the actress, 43, also starred in Return to Paradise, Six Days Seven Nights, Donnie Brasco and Wag the Dog.
She appeared in That's What She Said, and will star in NBC's upcoming comedy Save Me, and recently launched Tickle Time, a line of mineral powder sunblock for kids.
Heche is "forever engaged" to James Tupper and is mom to two sons: Atlas, 4, and Homer, 11.
She can be found on Facebook as well as Twitter @AnneHeche.
In her latest blog, Heche tackles a public temper tantrum — and support from another mother gets her through.
I'm back. I had to go away to shoot 12 episodes of television for a new NBC comedy called Save Me and had a difficult time finding time to use the restroom, let alone write a blog. I wanted to! Believe me. I thought about it at least every other day and started many.
"Here I am on the Sony lot, it is my first day…" one began. "Producing, acting and mommying, wow! Not the easiest of all jobs!" Another, "Atlas and Homer came to the Sony rainbow today, Hurrah!…" yet another, but the sentences would blink on my laptop, beckoning me every time I walked into my trailer, until finally I realized I needed to wait until I had stopped shooting to be able to focus.
So today, here I am — I have stopped working on Save Me, at least for the moment.
Like any mother who works, my first priority when I stop is my kids. What can I do for them? Where can I take them? What can we play? Will they ever forgive me? Is therapy in their future? No! I swear, if the amount of time I take worrying was spent exercising, I'd have a much tighter you-know-what.
"Is Daddy picking me up today?" Atlas asked. "I am picking you up today!" I answered with great delight. "No, not you Mommy," he replied, deadpan. I simply had to be kidding. I thought he may have even smirked at me and whispered in his teacher's ear, "Mommy's being silly today, she said she was going to pick me up!"
I wheeled out my bike hours before pick-up, putting email responsibilities, phone sheets, yearbook ads, showers and breakfast — even blog deadlines — on hold to be sure I was ready to pick Atlas up, Mommy-style. I have a totally cool Linus bike in white and Attie rides comfortably on the back.
I grabbed his sparkling yellow helmet, dangled it off the bars and centered the bike on our front walk so I could see it out the window of my office, reminding me of my very special moment at 3 p.m. when I would see my boy's face light up. "Mommy's here! She's really here!"
I sat down to work with a very specific deadline — 2:45 on the road time to get air if I need it and manage long traffic lights without frustration (school is very close). I finished the last of the drop and drags on Homer's yearbook ad, did a quick spellcheck and SEND! (I love when you can check something off the mental to-do list!) It was all going amazingly according to plan.
Missions accomplished, I set off on my ride, feelin' groovy. The wind in my hair, air in my tires, a couple minutes to spare and SHAZAM! It worked: Attie was beaming — Mommy had made it. He was so excited to ride on the bike, he practically tackled me on the sidewalk: "Put on my helmet, Mommy!" We navigated the streets like pros.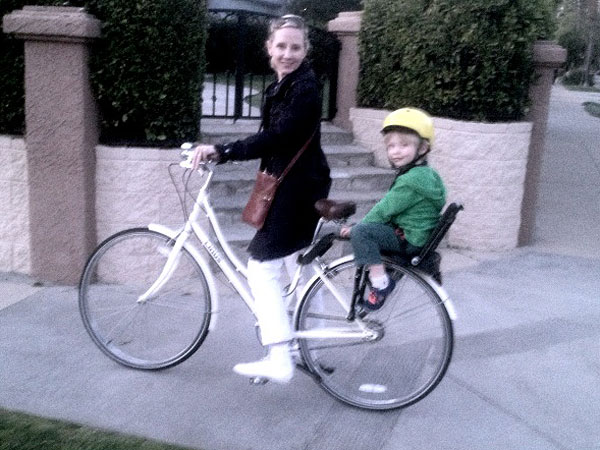 And we're off – Courtesy Anne Heche
"Are you hungry, Attie? Want to grab a hot dog?" I asked. He was so happy and I felt great, riding with my boy, humming a tune, on our way to our favorite deli on Larchmont Blvd. As we sat down to eat our perfectly cooked hot dogs, complete with ketchup and gooey white buns, we clinked our bubbly waters. "Cheers, Mom. I'm having a great day. You're so pretty."
Oh no! Not a cute little boy compliment! I'm a total sucker for those! "I have an idea, Mommy," Atlas proclaimed, so cheerful and cute, so clearly knowing he's won me over with one simple compliment. "Let's go to the toy store after this! Can we Mommy?!" And that's when it happened: THE MOMMY MISTAKE! "Yes!" I blurted, "Yes, honey that's a perfect idea!"
And it was. All the way to the toy store, inside the toy store and six inches outside the toy store where Mommy unwrapped, detangled and carefully handed Attie the toy that he had picked out for himself.
Now, when Attie is upset, his face starts to get red before actual sounds come out. Gradually he manages to emit sputters, umphs and crazy-hot emotional spits which erupt as a precursor to his eventual verbal declaration.
Apparently a skate-boarding-parachute-guy was NOT the toy that Atlas had hoped for. The fit began with not wanting the skateboard part to be attached to the guy part (it was, of course, soldered to his legs) and then the fury traveled its way up the body of skateboard guy to the parachute part, that was apparently NOT supposed to be connected to the guy AT ALL — shoulders, head or otherwise. Attie set off immediately to disconnect ALL parts.
Now mind you, Atlas most likely has never heard of a parachute, he hasn't any idea what a parachute can do, let alone be able to conceive the benefit to having one tied to a toy, but he was not about to give me the time of day to explain it. The second "Attie, wait — the parachute — that's the fun –" came out of my mouth, he was already in hysterics, pulling and tugging the poor plastic man in an absolute fit, screaming, "I hate this toy!"
Yes, all of Larchmont was listening. "I don't want this toy, I want another toy!" he cried.
Okay, so … Mommy conundrum: Do I escape this tantrum easily and without much embarrassment by allowing my newly-turned 4-year-old to bully and manipulate me into getting him another toy (knowing full well it would not secure happiness)? Or do I do the appropriate thing and try to calmly pry him off the sidewalk, where he is now balled up, yelling that he wants the toy store to be his "new home" and attempt to parent him with discipline?
This is a tough one. I don't like strangers to be staring at me, especially not while I anticipate my own internal decisions of motherhood with a snotty-nosed fit-fest happening in a corner on the sidewalk.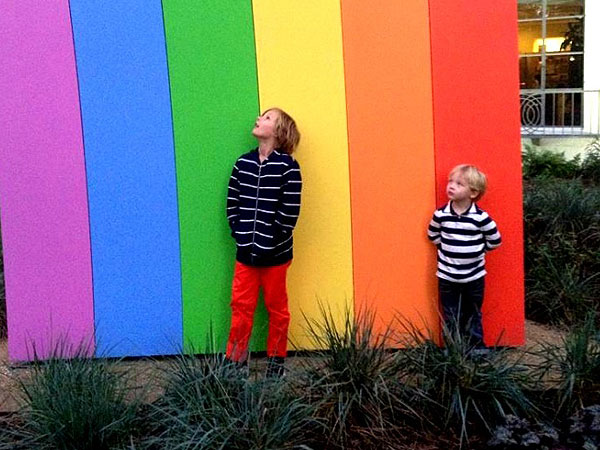 My boys – Courtesy Anne Heche
Atlas is now adamantly refusing to go home with me, he has chucked his helmet into the street and has his arms folded on his chest like a grandpa who just lost his savings at the Kentucky Derby.
I chose discipline. Self, that is. "Don't cave, Anne," I told myself over and over as I witnessed a groovy 20-something, clearly childless couple, wonder out loud, "Is that kid … lost?" And then catch themselves when I shook my head, "No, not lost, just with me…" and then wanted to scream, "Mommy attempting to parent correctly!" But I didn't. It was written all over me. I was trying to be strong, but felt like a total and complete loser.
The devil really comes into play in these moments, for me anyway. "Just get him another damn toy, woman! What's your GD problem?! Your kid is crouching in the corner on a dirty sidewalk refusing to go home with you, he obviously hates you!" I think. But I couldn't do it.
I managed to muster enough self-worth and will to know that a spoiled child is not what I wanted for Atlas' life even more than I didn't want it for mine. I remembered the wise words of a kind grandmother who once told me, "If you don't control them at an early age, they will come to control you."
I leapt to attention. "You're getting on this bike Atlas Tupper, with your help or with my muscle. I'm stronger than you and I WILL make it happen," I said. He fought me the whole time, legs and elbows, creating much more of a scene than I would like to admit or repeat. EVER.
And then a miracle happened: A beautiful woman who had avoided us on the sidewalk by taking the street, caught my eye just as Atlas was getting buckled in — and she winked at me. Who was she? ANOTHER MOTHER! That's who. "She gets it," I thought. She gave me a thumbs-up and a smile and was on her way. SHE APPROVES!
Atlas fell asleep within 30 seconds of the ride home. Of course. But this day, I had a renewed hope. A support system I never realized I have: Mommies are always out there, surrounding us and encouraging us, giving us strength and a wink when we need it most. We can trust it.
Look around — we are always there, witnessing and thanking you for being strong, parenting against all odds. You fighting the good fight for our children and their future as good, caring, loving citizens, and that's what counts.
When Atlas lifted his head from my back, he noticed the parachute. "Look, Mommy, the parachute caught the wind, he's flying!" As he ran to the front door he was beaming, shouting, "Daddy, daddy! I got a new toy today!"
— Anne Heche