Jennifer Garner Calls Ben's Acceptance Speech the Biggest Compliment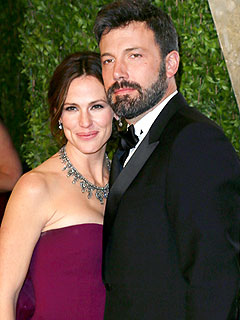 David Livingston/Getty
When Ben Affleck took the stage to accept the Oscar for Best Picture for his film Argo, his speech to his leading lady in life left the crowds swooning.
But when the actor thanked wife Jennifer Garner for working on their relationship, people began speculating that Affleck was actually alluding to troubles in his 7-year marriage to the actress.
"I know Ben, I knew he meant it as the hugest, warmest compliment in the world," The Odd Life of Timothy Green star, 40, tells The Telegraph.
"I think he was saying, 'Look, what we have is really real and I value it above all and I'm in it with you and I know you are in it with me.' That's the way I took it."

Consistently supporting her husband from the audience during awards season, Garner has taken on the load on the homefront, caring for the couple's three children — Violet Anne, 7, Seraphina Rose Elizabeth, 4, and Samuel Garner, 14 months — while he was on location.
"I definitely work less because Ben is so busy, but we have three kids, that's just part of the deal," she explains. "I want to be a mom. I'm happy for him that he's as energized about work right now as he is."
But according to the mom-of-three, the roles will soon be reversed. After starring in only a handful of films over the last few years, she's staking claim on this summer, suggesting it will be her comeback to the big screen.
"Ben's always saying, 'You need to work. It's a part of you and you're a different person when you're working,'" Garner shares. "I've reserved this summer [for work]. It's mine."
She continues, "I feel a bit like poking my head out of the fog. It's been a lovely mishmash of fog, but I feel my turn is 'round the corner. I don't know what it's going to be, but I'm ready for it."
Although Garner once believed being a working mother would be totally doable, she admits giving birth to her eldest daughter changed her way of thinking.
"I really thought when I was pregnant with my first that it wouldn't affect my work at all, it would just be a baby that grows up on set," she says. "And I was absolutely wrong. For women, the high point of their career and needing to have babies just don't really go together.
Despite happily settled with her successful career and tight-knit family of five in California, Garner can't help but long for her hometown across the country.
"I miss West Virginia very much," she admits, adding her brood often trades the glitz and glamour for the open blue skies. "It's really important to me that my kids spend a certain amount of time there because I feel there's something much more concrete about West Virginia [than Los Angeles]."
As for the ongoing debate on whether the star couple will add another baby to the mix, Garner reveals she and Affleck have finally come to an agreement.
"I am done. I really don't see how I could have more," she says. "My husband was keen on a fourth, but I think he has come round to my way of thinking."
— Anya Leon