Sarah Chalke: My Son 'Fell In Love' with Brad Garrett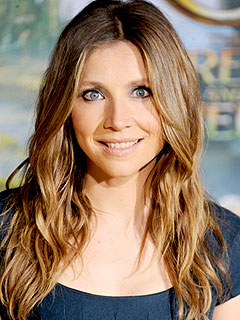 Trae Patton/NBC/NBC/Getty
Onscreen the relationship between Sarah Chalke and costar Brad Garrett may be strained but off-camera, the chemistry is going strong — at least for the actor and her son Charlie Rhodes!
"Brad and Charlie just kind of fell in love, it was the sweetest thing," the How to Live with Your Parents for the Rest of Your Life star, 36, told PEOPLE while promoting the show with creator Claudia Lonow at the TCAs.
"Whenever Charlie would come to visit for work … he'd pull out my makeup and start putting it on and go, 'Brad won't believe my makeup.'"
And once the 3-year-old laid his eyes on the prize — Garrett! — the first-time mom admits it was tough pulling the pair apart.

"If we had to go, he would say, 'I just need to tell Brad one more thing, Mama,' and then he would try and think of something to say," Chalke says with a laugh. 
"He doesn't hug anyone he doesn't really know and he'd see Brad and just race up and wrap his arms around Brad's leg."
But it was his surprising gift-giving skills that cemented Garrett's star status with the toddler.
"Charlie loves nothing more in the world than diggers. He's obsessed with diggers and backhoe loaders in particular — I'm very well schooled in all of this," she says. "And so on Charlie's birthday this big backhoe loader showed up from Brad and Charlie just lost his mind."
How to Live with Your Parents for the Rest of Your Life premieres Wednesday at 9:30 p.m. on ABC.
— Anya Leon with reporting by Michele Stueven