Kate Hudson: Matthew Proved Himself When I Got Pregnant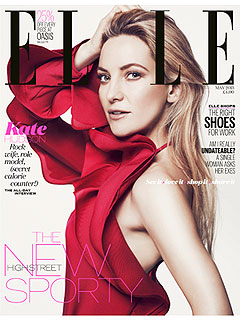 Benny Horne/Courtesy ELLE UK
After meeting at Coachella in 2010, Kate Hudson and Matthew Bellamy were immediately in tune, kicking off a classic courtship soon after.
But their traditional go at romance hit a high note when the actress discovered their relationship had taken an unexpected turn: she was pregnant!
"It was all very old-fashioned and proper, and we went on lovely dates," Hudson, 33, tells ELLE UK in their May issue. "And two months later I was pregnant … Well, yes [I was shocked], but I also thought, 'This is going to be interesting.'"
Not only did the couple bond over their baby on the way, but Hudson's pregnancy proved Bellamy was willing to step up to the parenthood plate.

"I knew it would take a strong man to deal with it. You know that with a relationship things can go either way when you have a child," she notes. "When you get pregnant everything changes: you, your body. Everything becomes a big decision. But he was there and that was that."
Now "three wonderful years later," Hudson and the Muse frontman are enjoying their family — which includes Bingham Hawn, 21 months, and 9-year-old Ryder Russell, the actress's son with Chris Robinson — and are looking forward to making it all official with marriage — eventually.
"We will get married. I do think it's important, but we have no plans," Hudson says. "[Ryder] wants a party. For me it's not the legal part that is important, it's what it means to the family."
Fortunately, the mom-of-two's own parents, actors Goldie Hawn and Kurt Russell — who celebrated 30 years together on Valentine's Day — have paved the unconventional path to a strong partnership.
"When I was a kid, my brothers and sisters and I wanted my parents to get married. We ended up with something far more powerful," she recalls. "We were all together at home, Dad gave Mum a ring and said some beautiful words. It was their own version of the ceremony and I remember it so well. It was like it was about us. The family was the glue."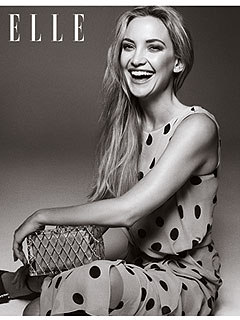 Benny Horne/Courtesy ELLE UK
In addition to admiring their relationship, Hudson has also been known to borrow a page from the couple's parenting playbook.
"I'm a lot less a rock chick and a lot more about being a good mother, a good partner," she explains. "I'm part of a family. That's how we were brought up, how I bring my kids up. They are very blessed to live how they do, but they are aware of that."
Instead of relying on prized material possessions to satisfy their sons, Hudson and Bellamy make sure to keep their boys well grounded — literally.
"We have a vegetable plot, a herb garden, the boys pull out carrots and collect eggs from the hens, that's the sort of day that makes me really happy," the proud mom shares.
— Anya Leon