Dido: My Son Is Not Named After My Hit Song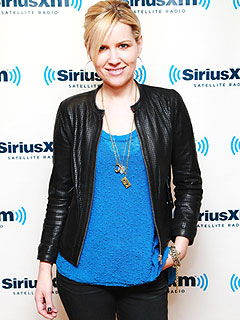 Taylor Hill/Getty
Fresh off her third album, Dido promised fans a fourth was in the works — what she didn't know was so was her first child.
After discovering she and her husband Rohan Gavin were expecting a baby, the mom-to-be took a break from the business and focused her attention on family, welcoming son Stanley in 2011.
It turns out her step back from the spotlight proved beneficial: baby boy is her biggest fan (and critic!).
"The things he loves, he just goes into a complete trance and he just smiles and listens. And he's amazing when he loves something," Dido, 41, tells the Associated Press.
"When he doesn't love something, he just waves at it really vigorously, like, 'Turn it off!' So it's quite nerve-wracking."

Tracks from her latest album Girl Who Got Away are already topping Stanley's charts.
"There's certain records that I play where if he doesn't like it, he's waving at it," the singer shares. "Partly because all he wants to listen to at the moment is 'No Freedom.' It's quite strange — again and again and again."
One song that Stanley hasn't heard yet? Dido's duet with Eminem for their smash hit, "Stan," a collaboration which she never imagined fans would connect to her son's moniker.
"Stanley was actually our favorite name, coincidentally both of our favorite names. He could never have been called anything else to be honest," Dido shares. "I'm so stupid, I didn't think anyone would make the connection."
Proud of her choice, Dido jokes the name game in her family is always a fun affair. "It's fine," she says of her final decision. "I was named after a crazy queen who threw herself on a fire."
While her songs may not have spurred her son's name, Dido admits Stanley is certainly serving as inspiration for her future records.
"I really see the world through his eyes and it gives this real freshness to everything," she says. "It's like you thought you were going to run out of things to ever write about, you have a kid, then you're never going to run out because suddenly everything is sort of limitless again and fresh and new and it's like this amazing new start."
— Anya Leon