The Madison-Rotellas Celebrate Easter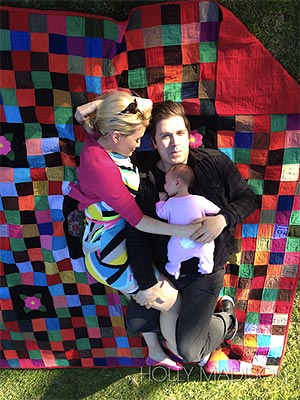 Courtesy Holly Madison
Baby's first Easter!
New mom Holly Madison and her boyfriend Pasquale Rotella cuddle close with some bunny special — daughter Rainbow Aurora — while posing for a family photo Sunday.
Sharing a series of sweet snapshots from their festive celebration, Madison says her home was hopping with friends and family (and a costumed critter!), with everyone noshing on treats and searching for colorful goodies.
"We had a brunch and an Easter egg hunt in our backyard," she writes on her website. "The weather was perfect and it was so chill!"
The couple welcomed their baby girl March 5 in Las Vegas.
RELATED: Holly Madison: My Daughter Won't Be Traumatized By Her Name