Kim Kardashian: My Baby's Going to Be Born Wearing Leather Leggings!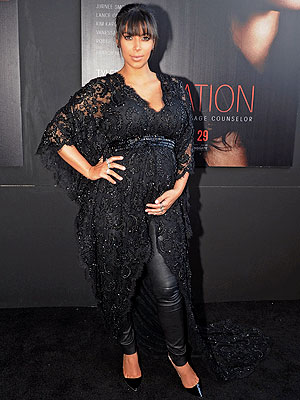 Chris McKay/Wireimage
Kim Kardashian may say that pregnancy isn't as easy as she thought, but she certainly doesn't show it. She's as busy as ever, with a new high-fashion maternity outfit for every occasion — and she's loving it.
"It's definitely fun! I'm enjoying figuring it out," the Temptation actress tells PEOPLE of learning to dress her new bump. "Either you go tight and you really show it off, or there's the muumuu style that's perfect for tall, skinny model types."
Her current fave maternity wear: leather leggings. The mom-to-be wears them so often, she's even commissioned a pair from her Kardashian Kollection for Sears.
"I think leather leggings are super stylish but comfy," she explains, leading to speculation her baby will be born wearing a pair. "That's what Kourtney says all the time!" she agrees, laughing.

And despite her tentative first foray into flats, we can expect to see more of them. "I'm loving flats and flat sandals," she shares. "I'm just trying to find really cute ones."
TELL US: What do you think of Kim's evolving bump style?
–Alex Apatoff, reporting by Jennifer Garcia