I Really Love My: Kim Kardashian's Flowing Sheer Dress
Third time's a charm!
Although she promised a pregnancy filled with form-fitting fashions, Kim Kardashian does have one billowing piece she can't seem to get enough of. And it's no wonder: her findersKEEPERS Come Running Dress ($150) is, well, sheer magic.
On Oct. 11, before announcing she and Kanye West were expecting their first child, the reality star kept her barely-there bump under wraps in the black version paired with strappy stilettos while in Miami.
Then, on Feb. 19, Kardashian wore the same see-through tunic in Beverly Hills, rounding out her monochromatic look with leather leggings, sandals and a black purse.
But, it was the mom-to-be's March 15 outing that took her maternity style to new heights when she stepped out in the high-low hemline dress — this time in an ethereal champagne hue — with a white blazer and chic gold flats for a glam goddess vibe.
Despite a few bump-y spots in Kardashian's pregnancy style, we're loving this look. We're also happy she's finally embraced maternity jeans — her go-to denim is by J Brand. We can only hope this sudden shift to more pregnancy appropriate attire is here to stay.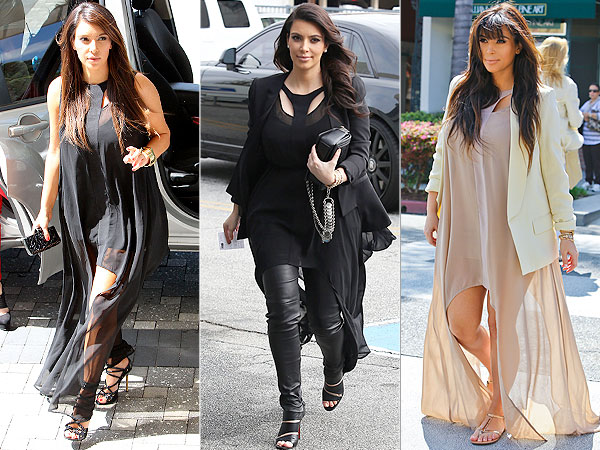 FameFlynet(2);X17online
— Anya Leon