Holly Madison: Breastfeeding Is the Biggest Challenge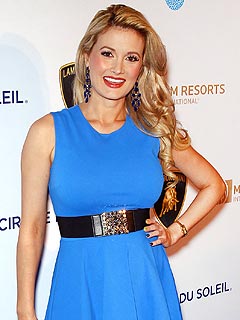 AdMedia/Splash News Online
A mom for just over two weeks now, Holly Madison believes that parenthood is the breast — er, best — role of her life.
"Breastfeeding is the biggest challenge," she tells PEOPLE Friday in her first public appearance since delivering daughter Rainbow Aurora earlier this month.
"I took classes — and I don't want to discourage anyone from nursing — but I'm surprised at how much work it is and how much you're on call," Madison admits, adding, "I'm happy to do it since it's healthy for my baby."
The former Playboy pin-up and Las Vegas headliner says she "did her research" during the pregnancy, but has found that the education pales in comparison to being in the trenches with a newborn.

"It's a 24-hour thing, as any new mom knows," she notes. "I was as prepared as I could be and [I'm still learning] how time-consuming it is."
Although she appeared quite slim in a blue Diane von Furstenberg dress at Cirque Du Soleil's One Night For One Drop benefit show, Madison, 33, joked that it was all an illusion.
"I'm wearing this because it flares out," she explains. "The skirt masked my gut!"
— Mark Gray