Kym Whitley Creates 'Don't Feed Me' Shirts for Kids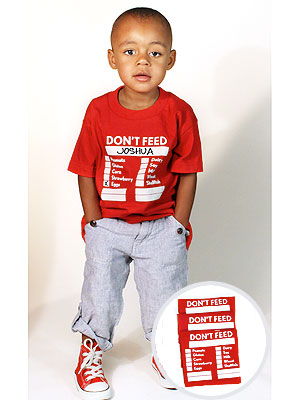 Courtesy Don't Feed Me
Kym Whitley's latest production is definitely a bit of food for thought.
After the actress discovered her son Joshua — whom she unexpectedly welcomed through adoption in 2011 — suffered from severe allergies, Whitley went to work to alert others of his forbidden foods.
According to the first-time mom, the risks of a child consuming the wrong things is something she knows all too well: Unfamiliar with Joshua's allergies, his nanny fed him peanut butter, one of the many foods he cannot eat.
"Luckily, I was home," Whitley tells ABC News. "That's the thing: I heard that cough that sounded like what we had before he was tested."
Her brainstorming led her to create a line of Don't Feed Me shirts — retailing for $10 and available in red, blue, gray and orange — which provide caretakers with a visual aid of a child's allergies.

Along with the colorful tops, which allow a parent to fill in their child's name and then check off which foods could cause a reaction, Whitley has also put together similar packs — complete with the 'Don't Feed Me' chart — where EpiPens can be stored.
Proceeds will go toward a college fund for Joshua, who proudly sports the shirts each time he has a new babysitter or attends a birthday party.
And soon fans will get a glimpse into Whitley's world as she tackles the tough job of parenthood, a journey that began after a young woman she had been mentoring surrendered her newborn son at the hospital with the actress as the only contact.
Raising Whitley premieres at 10 p.m. April 20 on Oprah Winfrey's OWN network.
— Anya Leon