Brooke Burke-Charvet: My Daughter Wants to Wear Heels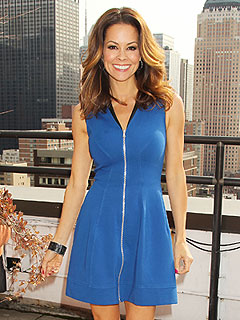 Dave Allocca/Starpix/Startraks
Raising four kids is tough, but raising a teenager is a whole 'nother ballgame.
Lately, Brooke Burke-Charvet has been getting plenty of practice on the playing field: Her eldest daughter Neriah recently celebrated her 13th birthday.
"Thirteen is a big deal. She's outgrown me and outgrown my shoe size," the Dancing with the Stars host, 41, told PEOPLE at a Thursday screening of her Claritin Challenge short film.
"I'm glad she cannot wear any of my shoes because they're not appropriate. But her foot is now bigger than mine so I'm off the hook."
Well, not completely off the hook. Says the mom-of-four: "Now it's, 'Can I wear a wedge?' And 'How high can the wedge be?' And 'When can I wear a high-heel?'"
Just as dipping into her mom's shoe collection is off-limits for Neriah, so is borrowing bottoms from her younger sisters, Sierra, 10, and Rain, 6.
"[Neriah's] little sisters can still wear booty shorts, but she can't wear booty shorts anymore because now she's got a body," jokes the former model.
Adapting to her children's individual needs has been a constant learning curve for Burke-Charvet, who is also mom to son Shaya, 5.
"With four right now, they're all growing up and becoming their own little people," she explains. "When something works for one, it fails for the other. I'm sort of learning a new language every month, it's crazy."
As for the notoriously difficult work-life balance, Burke-Charvet says she and her husband, David Charvet, are a team.
"It's a joint effort — my husband is very hands on," she says. "We don't have much of a social life because we really believe in family time. Family is first for us in our household."
— Caitlin Keating