Baby Boy on the Way for Kris Allen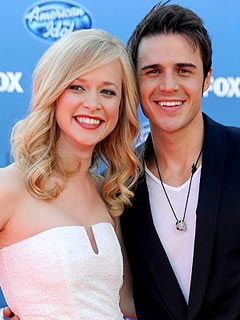 Frazer Harrison/Getty
Kris and Katy Allen's baby on the way is a son.
"I am really excited. I've always wanted to be a dad. We just found out … it's going to be a boy," the musician, 27, tells HollyWire.com at SXSW. "My wife already started buying him clothes like me. He's already got some [fedoras]."
Due in July, the American Idol winner announced his wife's pregnancy in January after the couple were involved in a head-on collision. Allen broke his wrist in the crash, rendering him unable to play guitar just days before a tour kick-off.
"It's getting better but it's slow. Apparently I shattered it," he explains, showing off his scar. "I'm not quite playing [guitar] yet, but I'm getting there. It's so frustrating, but it's okay. I've actually started picking it up and messing around with it a little bit."
— Sarah Michaud