Tamar Braxton: Why We Waited to Go Public with My Pregnancy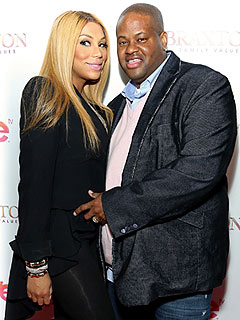 Sara Jaye Weiss/Startraks
Tamar Braxton and her husband Vince Herbert were anticipating a long battle for a baby.
So when the couple discovered they were unexpectedly expecting, the parents-to-be needed time to take it all in.
"Vince and I [were] told we were going to have fertility problems — it was a lot of information — so we had to get comfortable with the fact that it happened on its own," Braxton, 35, tells PEOPLE.
"We decided [not to announce the pregnancy] until we were both really okay with it — that's why we waited."
The memorable moment they found out their first child was on the way is one Braxton won't ever forget.

"I just burst out laughing," she recalls. "It's like, 'What you talkin' about, boo?'"
But now that the world knows, Braxton — who's craving potato chips and cheddar cheese — is being bombarded with "unsolicited advice" — especially from her mother as well as her sister Toni.
"My sisters are making me feel more maternal because they're crazy. They're giving me advice on how to be a mother and be pregnant," the mom-to-be says. "They always have a comment about my shoes, what am I wearing, what am I eating, you need to put your feet up and I'm just like, 'I'm fine!' They're too much."
However there is one thing the Tamar & Vince stars are still keeping top secret from most of her family: the baby's sex. "I can't tell my sisters because my sisters will tell everybody," she jokes. "My mom knows because she won't tell."
"Really blessed" to be adding babies to their brood, Braxton jokes that Herbert has been busy designing the baby's room — or so he thinks. "Right now we're going through picking the nursery and he's trying to decorate it, but he's lost his mind because I'll be decorating it," she says.
While pending parenthood has already affected almost all areas of her life, Braxton notes that her pregnancy has particularly put a positive spin on her singing career.
"I think I sing better right now. My vocal chords are really, really healthy maybe because I'm not having cocktails," she explains. "I'm singing all the time and not having anything spicy. No acid reflux! I'm in a good place."
— Anya Leon with reporting by Carlos Greer