Why Reese Witherspoon Found Out Michael Bublé's Baby News First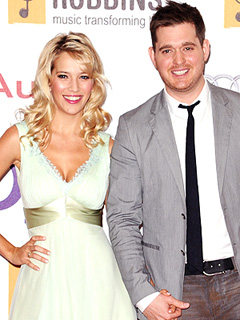 Snappers/Zuma
Reese Witherspoon knows how to keep a secret — just ask Michael Bublé.
During a phone conversation to discuss their duet on the singer's upcoming album To Be Loved, Bublé struck a chord with the actress (and mom-of-three) when he broke even bigger news: he and his wife Luisana Lopilato had a baby on the way!
"I had just found out [we were expecting]. It was the greatest day of my life, so I just said, 'You know, I'm having a baby!'" he tells PARADE.
"And Reese was so sweet about it and excited for me. It was nice for us to bond that way. I told her before anyone else in the world knew — even members of my own family!"
Since that special day, Bublé — who recently found out they will welcome a son in August — has been busy doting on his pregnant wife.
"Obviously she's doing all the work — she's carrying the kid," he says. "My job, I found out, is just to tell her that those aches and pains are normal [and] that she looks awesome."
And most importantly, he adds, to provide the mom-to-be with a much-needed support system.
"I think sometimes it's probably pretty scary for my wife," Bublé, 37, notes. "It's my job to just be strong for her like she's strong for me all the other times."
— Anya Leon