Julia Restoin-Roitfeld Launches Website for Style-Conscious Moms
As the daughter of the former editor of Vogue Paris, Julia Restoin-Roitfeld knows her way around the fashion world. But it wasn't until the former model, 32, was expecting her first child — a daughter born in May 2012 — that she realized her idea of maternity dressing wasn't the norm.
"I didn't want to change the way I dress, or the way I feel about myself. I wanted to keep dressing in a very sexy, girly way," she told Vogue UK of her pregnancy style.
"It's so strange how people can be judgmental when they see a pregnant woman dressed in high heels and tight dresses. Being pregnant shouldn't make you feel less of a woman, but more of a woman!"
Now, in an effort to reach other likeminded moms and moms-to-be, the photographer has debuted a new website, Romy and the Bunnies.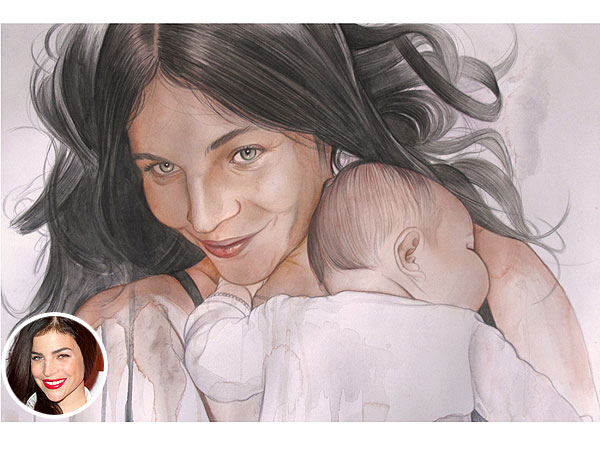 Courtesy Romy and the Bunnies; Inset: Splash News Online
Named after her now 10-month-old daughter Romy Nicole, the website focuses on everything from Restoin-Roitfeld's mommy and baby must-haves and latest beauty tips and tricks to celebrity interviews with some of Hollywood's most fashionable mamas, including model Helena Christensen.
According to the first-time mom, she created the site — which will feature fresh content daily — to encourage women to embrace their femininity even when they're sporting a baby bump.
"I have always loved anything sexy," Roitfeld, whose maternity wardrobe included form-fitting frocks, sky high heels and designer apparel straight from the runway, shares.
"I have a passion for lingerie, and designed a collection last year with Kiki de Montparnasse, and didn't find a lot of maternity websites that spoke to me. They all felt a bit too goodie goodie to me."
So does this mean we can expect a line of chic maternity underthings from Restoin-Roitfeld? Only time (and her website!) will tell.
— Anya Leon