Camila McConaughey: My Tough Pregnancy Resulted In a C-Section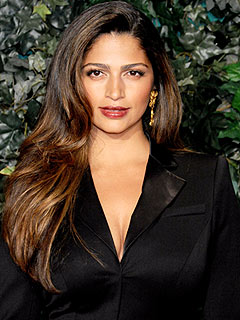 Gregg DeGuire/Wireimage
When Camila Alves McConaughey alluded to problems during her most recent pregnancy, it turns out things were more serious than she originally let on.
"I had a really tough pregnancy — I had all kinds of things happen throughout the whole [nine months]," the handbag designer and face of Macy's I.N.C. International Concepts' campaign said Wednesday on The View.
"I had strong pains and kept telling the doctors … no one could figure it out. We ended up having to do a c-section," Alves McConaughey, 30, explains.
"I told the doctor right before I went in, 'Once I'm there just take a look, because I know something is wrong.' They ended up finding all kinds of things in there that we had to take care of."

Although the model didn't elaborate on her specific health woes, she admits the forced downtime has taken a toll on her ability to care for children Livingston, 11 weeks, Vida, 3, and Levi, 4½.
"This recovery has been extremely hard because I had a c-section and all these extra procedures," she notes. "I'm not able to exercise … I can't even pick up my kids, really. I have to be careful — I have another four weeks to go."
Luckily, she has husband Matthew McConaughey — as well as her mother Fatima — to lend a hand at home. It's help she appreciates, considering her humble start when she first arrived in Los Angeles.
"I moved here to pursue modeling. I come from a simple background and family — I couldn't call my father and say, 'Pay my bills.' I had to get out there and work," she says. "I was cleaning houses and started working in the Mexican restaurants because I could [read] the menu and orders. I slowly learned the language and [was able to] communicate with people a little better."
Eventually Alves McConaughey found herself working at Los Angeles lounge Hyde, where she met the Mud star — and the rest, as they say, is history.
— Sarah Michaud