Baby Boy on the Way for Michael Bublé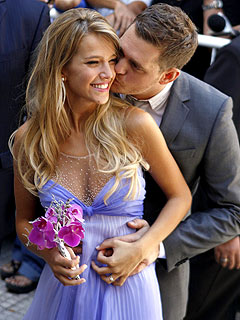 Natacha Pisarenko/AP
Wednesday was a big day for Luisana Lopilato, husband Michael Bublé jokes — the new pope was chosen from her native country and the couple discovered they're having a son.
"We are so excited. We have just come from the hospital, and the sonogram was pretty clear — it's a boy! We are thrilled," the singer, 37, tells Page Six.
Bublé and his 25-year-old wife, an Argentine actress, had their ultrasound appointment just after learning of Jorge Bergoglio's selection. He will be known as Pope Francis.
"She said, 'It is a sign!' But there's no way we are going to call him Frank, even if it did work well for Frank Sinatra," the dad-to-be jokes.
Bublé and Lopilato will welcome their son in August.
— Sarah Michaud