Connie Britton: My Son Confused Me with Beyoncé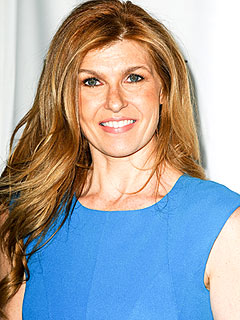 Giulio Marcocchi/Startraks
Connie Britton may be a single mom, but her son apparently thinks she also sings "Single Ladies!"
When the actress's recent MORE cover came out around the same time as Beyoncé's GQ spread, Britton put 2-year-old Yoby to the test.
"I had them both in my house and my son was looking at [them]. I said, 'Do you see Mommy?' He points at Beyoncé and says, 'Mommy,'" the Nashville star, 45, tells PEOPLE at the show's PaleyFest panel Saturday.
But Britton took her son's mistake in stride, choosing to see the identity confusion as a compliment. "I was like, 'That's my boy,'" she jokes.
"I've played a mom a lot and I only became a mom for real recently," says the former Friday Night Lights and American Horror Story star. "It's really hard work. Really hard."
Making her job as a single mom more difficult is the time spent shooting her hit show in Tennessee.
"I basically went to Nashville with my new son and didn't know a soul. I'm not there with my support system," Britton explains. "But I do have the crew and all these actors. I've made amazing friends there. You really find family wherever you go."
But it's her son — who travels back and forth with Britton between L.A. and Nashville — who has really stolen her heart. "He's pretty much the most amazing person on the planet. He really is," she shares.
— Patrick Gomez