Karolína Kurková: Having My Son on Set Is Too Distracting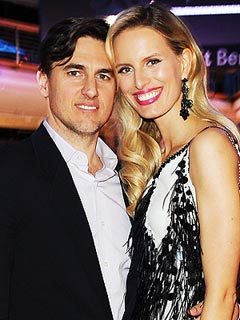 Target Presse Agentur Gmbh/Getty
As a working mom, keeping her son on set with her during the day just isn't a possibility for Karolína Kurková — Tobin Jack can't help but get into everyone's face!
"I love him to come and visit, but then everybody gets distracted … he starts to talk and he's very open and very talkative," The Face coach, 29, tells PEOPLE.
"He likes to show off. He goes to everybody, 'Hello, look at my car, look at my rock star shirt.' He starts singing and dancing — he's like a little performer!"
The 3-year-old scene-stealer is much better off with his buddies, explains the supermodel mama.
"If he's there and I'm working, I don't really get to see him then I feel bad," she says. "It's better if he's with his friends or at school having a good time. Then when I'm home, I'm home."

When she's not working, Kurková and her boys — including husband Archie Drury — have all of New York City's endless activities to explore. Typically, the family can be found soaking up all the subway has to offer — per Tobin's request!
"He's very into real trains, so when we're in New York we take him on the subway and he loves it. It's his favorite thing," she shares. "We go up and down the subway. We give him a stopwatch and say, 'Okay, in two minutes the train is coming.'"
Kurková continues, "He watches the stopwatch [and says], 'It's coming!' Those eyes are so big and he's so excited. He's a boy — he loves anything and everything that's adventurous and fun and wild."
But between her busy shooting schedule for The Face and keeping up with Tobin, how does the mom manage to maintain her fabulous figure?
"I have to always run after him! That's great exercise having a 3-year-old and he's super fast when he runs — like really fast — so I really have to constantly [be like], 'Where is he? What is he doing?'" she says.
"He loves it. He likes when I have to chase him and he's like, 'You can't catch me!'"
–– Anya Leon with reporting by Michele Stueven