Hilaria Baldwin: My Mom Guessed I Was Having a Girl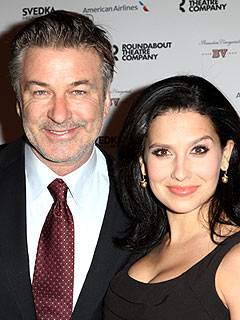 Walter McBride/Corbis
Mother knows best!
Shortly after announcing her bets were on the couple's first child being a boy, Hilaria Thomas Baldwin was surprised to find out she and husband Alec will actually welcome a daughter this summer.
"I was convinced it was a boy. I always just thought I was going to have a boy first," Thomas Baldwin tells PEOPLE at Roundabout Theatre Company's Spring Gala Monday in New York City.
As it turns out, the yoga instructor's mother knew there was a baby girl on the way all along.
"My mother told me a week before we found out that she had a dream that it was a girl," Thomas Baldwin, 28, says.

"I started to think [she was right] because my mother's dreams are always true."
Although friends of the family suggested keeping the sex a surprise, the mom-to-be explains the decision to find out turned into an unexpected opportunity during the ultrasound.
"We got to spend 45 minutes looking at her, and we wouldn't have been able to do that if we didn't want to know the gender," Thomas Baldwin says.
Now that the couple are thinking pink, the Baldwins are all caught up in the name game. Fortunately, despite differences on baby boy names, choosing a moniker for their daughter seems to be going smoothly.
"We actually like really similar names, so we are on the same page. No big arguments," she says. "We have a couple of names that we like — and that information we are not sharing — but I do think that you have to look at her when she comes out."
But baby names aren't the only thing on the to-do list.
"I did an interview today with the Duggar family and all of these kids were asking me questions about if I'm ready to be a mom," the special correspondent for EXTRA shares. "One of them said, 'Do you have a crib yet? I said, 'No, I don't have a crib.' So I guess there are a lot of things I have to get together, but we still have time."
— Anya Leon with reporting by Caitlin Keating