Another Girl on the Way for Ian Ziering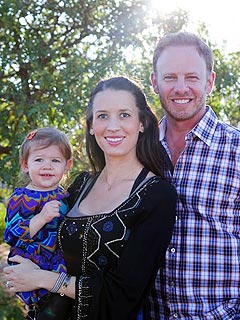 Courtesy Erin Ziering
Ian Ziering is quickly becoming outnumbered at home.
The actor and wife Erin are set to welcome a second daughter in early May, he tells PEOPLE exclusively.
"I'm so excited about having another girl, and I'm at this crazy point in the pregnancy where Erin is so magnificent to me in every way," says the former Beverly Hills, 90210 star, 48. "So in love with my love am I."
This also means that daughter Mia Loren, who turns two on April 25, is getting ready for her new role.
"Mia is so excited. She lays her head on my stomach and says, 'Baby come out now,'" Erin tells PEOPLE. "Every time we see a baby she says, 'I am having a baby sister' and talks about how she's going to be her new friend."

After a high-risk first pregnancy that found her struggling with gestational diabetes and an elevated heartbeat, Erin underwent additional monitoring this time around, leading to the discovery at just 11 weeks along that she was expecting another girl.
"Ian didn't want to know," Erin explains, but he ended up finding out only three weeks after she did. Thankfully, this pregnancy has had no complications. "Everything is fine, thank God," Ian tells PEOPLE.
Ian, the youngest of three brothers, was hoping for a son so that he could "teach him how to be a good guy and a great man. At the moment I found out what sex the baby was, there was a little time of disappointment but there are just as many reasons to have a girl as to have a boy. Spending two years with Mia showed me that."
Will they keep trying for a boy? "We'll see where we're at two," the actor notes.
As Mia was named for Ian's late mother Mickie, this baby's moniker will honor the actor's father Paul, who passed away in 2008. Until they decide on a name, "she's baby P for now," Ian says.
— Diane Herbst