Kristin Cavallari: Jay Watched Camden Being Born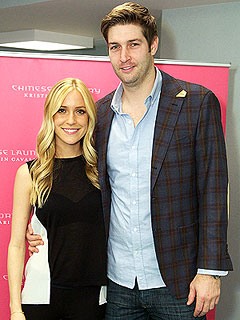 Jeff Schear/WireImage
When it came time for Kristin Cavallari to give birth to their son, Jay Cutler certainly wasn't sitting on the sidelines — the new dad got right in the game.
"I was like, 'You're going to be behind me. You're not going to see anything,'" Cavallari tells E!'s Giuliana Rancic of Camden Jack's August delivery.
The hospital staff had other plans for the parents-to-be, however. "The nurse [said], 'Oh, no, no, he's going to hold your leg.' I was like, 'Oh, no he's not,'" the fashion designer, 26, recalls.
But when the nurse insisted, Cavallari quickly gave in. "At that point I'm like, 'Whatever.' So he held my leg — he saw the whole thing," she says.

Fortunately, Cavallari and the Chicago Bears quarterback are still going strong despite the front row seat. "We're okay," she jokes.
The E! Entertainment Special: Kristin Cavallari premieres Sunday, March 10 at 10 p.m.

— Anya Leon