Vanessa Lachey: How I Battled the Baby Blues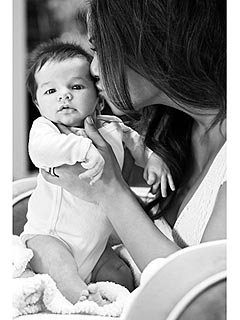 Courtesy Vanessa Lachey
Life for Vanessa Lachey hit an all-time high when she and her husband Nick Lachey welcomed their first child, son Camden John, in September.
In a new blog entry on her website, however, the first-time mom reveals that the magical moment would soon be overshadowed by her sudden slump into the baby blues.
"I remember the first night in the hospital, after 14 hours of labor and three hours of pushing, how it was ALL worth it!" she writes.
"I looked over and saw Nick holding Camden in his perfect hospital swaddle and I felt so at peace and right where I was supposed to be."
When evening came and Vanessa's nurse left her with instructions to feed her baby boy every two to three hours, the new mama began to schedule the newborn's nighttime routine.

"I immediately mapped out in my brain the next 24 hours. When he would eat, which side I would start on and what 'hold' I would use for each feeding to get the maximum efficiency," she recalls.
According to Vanessa, all was going according to plan — until the mother-son pair overslept and missed the 9 a.m. feeding. "I didn't hear him cry (because he didn't) and I didn't wake up because who sets an alarm the next morning after giving birth?" she says.
"I immediately sat up in bed and had a panic attack. Why did my maternal instinct not kick in and wake myself to feed him … I proceeded to take him out of his bed and feed him. Tears were rolling down my cheeks. My hopes and dreams of being the perfect 'natural' mother were shattered."
But by the time the tight-knit trio headed home and settled into their new routine, Vanessa was back to basking in baby bliss. "Happiness just takes over and your phone immediately fills up with videos and pictures of this little life," she shares.
However, when week two of being home with Camden came — and the Lachey's house filled with family and friends all eager to meet baby — Vanessa's world slowly began to unravel.
"At this point I was sick of feeling like a milk machine. I loved my bonding time with Camden … But also there were times when he was crying of hunger … Then when Camden was done eating, I wasn't able to lay and cuddle with him," she recalls.
"I had to give him back to all the well-wishers who wanted to hold him and love him, and I sat and waited for the next feeding, where I would do it all again … I was constantly thinking about how I would have to give him up at the end of the feeding."
Despite an "amazing and supportive husband, his loving family and wonderful friends," the new mom suddenly felt all alone.
"I started crying. I was feeding Camden and crying my eyes out. I felt like I had officially come undone," Vanessa, who handed off the baby to Nick, says.
"I got in my car, took a drive around the block, put my sunroof down and blared the radio. I went to Starbucks, came home, took a shower, put myself together, and came upstairs and gave my husband a kiss and said I was sorry."
She explains, "I was sorry for the weeks of losing myself. I was sorry for the weeks to come when I won't be myself, and I am sorry I can't do it ALL like I thought I could."
Taking the time out to collect her thoughts gave Vanessa the insight into managing motherhood that she had been searching for. "It's okay if we can't do it ALL because … we have already done so much!" she notes.
For more on Vanessa's baby blues, read the full entry at VanessaLachey.com.
— Anya Leon