Beverley Mitchell's Blog: Showered with Love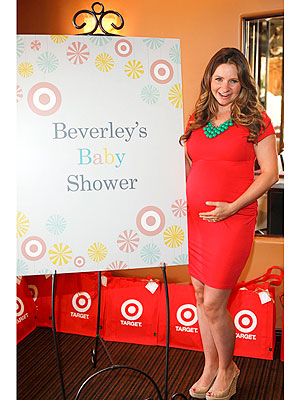 35 weeks pregnant! – Lu Tapp Photography
Please give a warm welcome to our newest celebrity blogger, Beverley Mitchell!
Best known for her role as Lucy Camden on the long-running drama 7th Heaven, the actress most recently played Kaitlin O'Malley on The Secret Life of the American Teenager.
Mitchell, 32, and husband Michael Cameron have announced that they're expecting their first child — a daughter! — in April.
You can find her on Facebook, WhoSay and Twitter @beverleymitchel.
In her latest blog, Mitchell writes all about her baby shower — and shares photos and video exclusively with PEOPLE.
GALLERY: Beverley Mitchell's Chic & Cheery Baby Shower

The most amazing thing happens when you're pregnant — all of your family and friends are so excited, they want to shower you with love. It truly is incredible. And this little one and I have definitely been blessed with more love than I ever could have imagined.
I had an incredible shower in Boulder, Colo. with my mother-in-law and Michael's family, a brunch with a few of my fabulous ladies, and a family shower from my mom and cousin. After all this showering, I was so excited to team up with Target to shower my incredible friends and Mom and treat them for once. They have been so amazing and it was quite a fun afternoon of pampering them with a few of my favorite things.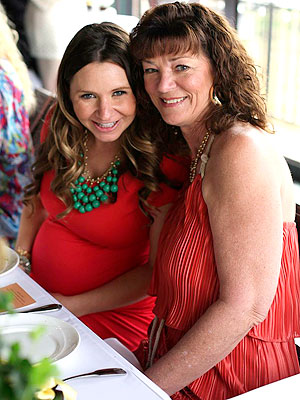 With my mama, Sharon – Lu Tapp Photography
And the best part about the day was everyone brought gifts for Teen with a Dream. It meant so much to spread the love and give back. All of my friends brought loads of books and toys that will be distributed to children fighting cancer — just a little something to help them in their healing process. My friends were so generous; they brought a ton of gifts for the kids. I can't wait to take part in a drop after baby girl gets here!
We decided to do the shower in Westlake Village at the Zin Bistro Americana over looking the lake. It was the perfect setting and we lucked out with a truly beautiful day. We couldn't have planned it better — a perfect day. I think it actually was close to 80 degrees. Gotta love the southern California weather.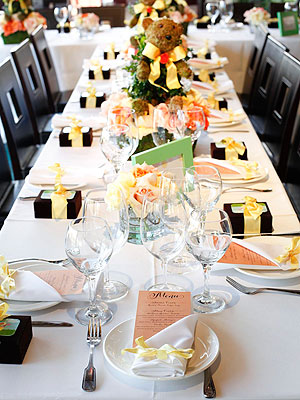 The gorgeous set-up – Lu Tapp Photography
As you all know, dressing the bump can be quite challenging. Lucky for me I had stopped by Target and picked up a bunch of Liz Lange for Target dresses as I near the end of my pregnancy. I honestly wish I had done this earlier. The dresses are so incredibly comfortable and stylish and I LOVE the bright colors for spring. And the best part is they are affordable and I can definitely wear them after the little one comes.
I settled on a bright coral dress that definitely hugged the bump. I figured, "Why not rock it?" Everyone loved it, because it was one of the first times that you could clearly see how big I've gotten.
I paired it with my Stella & Dot Jolie necklace and my outfit was complete. I absolutely loved the bright and fun spring colors and I had no idea I would match the décor. When I got to the shower, I totally matched all the beautiful flowers and I swear it was not planned! My mom even showed up in a coral dress as well. I guess we were all feeling the beautiful day and all had the same plan to rock bright spring colors. Everyone looked beautiful!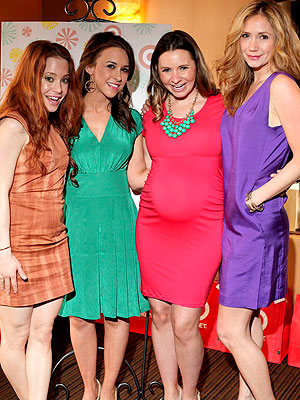 With Amy, Lacey and Ashley – Lu Tapp Photography
I was super excited that the nice people at Crystal Light came up with a creative way for me to toast the upcoming arrival of my sweet baby girl with an exclusive mommy mocktail. We all raised a glass and had the "Baby on Board" Peach Bellini made with the new Crystal Light Liquid. SO good and all you do is add a little to your flat or sparkling water and there you go. It was fun and tasty and was a great toast.
In case you want to try one at home:
Baby on Board Bellini
Ingredients
– 1 squeeze of Crystal Light Liquid Peach Bellini
– 8 oz. of chilled sparkling water
Method
– Fill flute with sparkling water
– Top with a squeeze of Crystal Light Liquid Peach Bellini
It's that easy and super fun — perfect for parties! I suggest these as a fun way to toast your mama-to-be.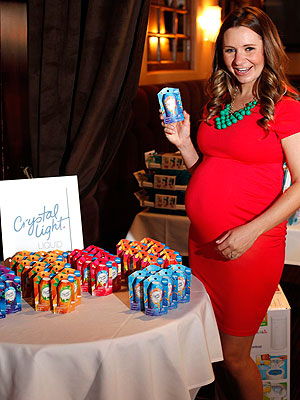 Secret to the mommy mocktail – Lu Tapp Photography
Most of the afternoon was spent chatting and catching up, just being silly, goofy girls and it was magical. I laughed so hard and loved every minute. We even had this amazing psychic named Melodie. Usually I am not so into that for fear of hearing something bad, but she was amazing and right on. The girls were lining up to get their readings and it was a hit!
It was also so fun to finally pamper these incredible women in my life who have been so supportive and amazing throughout my pregnancy and will certainly be there once baby girl arrives. To see their faces as I was able to share some of my favorite things was awesome; they were so surprised and excited. I am so blessed by my friends at Good Carma Studio for producing the best shower a girl could ask for!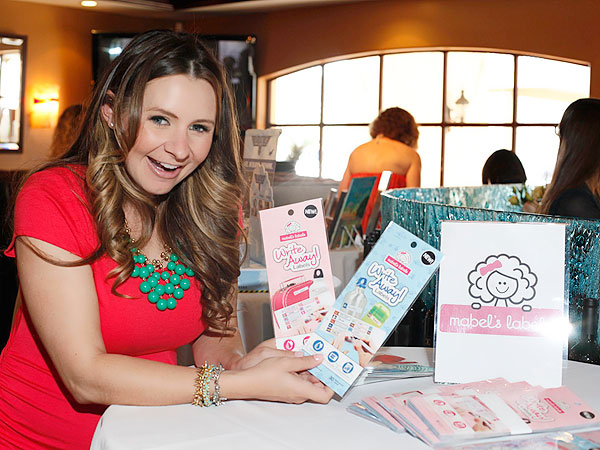 Love Mabel's Labels – Lu Tapp Photography
One of the goodies I shared was my favorite Mabel's Labels Write Away labels, which are waterproof, dishwasher and microwave safe! WHAT?! I love it! My friends know that I am super organized and kind of have a labeling obsession … add my nesting instincts that are happening right now and it is crazy. I don't know about you, but I am in the most serious organizing mode as I head into my last few weeks of this pregnancy.
The girls also left with Babiators (amazing shades for little ones) — I have the pink pair for baby girl. They each got a bag from Galian — who doesn't love a new purse? I know I do. The girls also picked out some bracelets from the Stella & Dot bracelet bar. I totally have a Stella & Dot obsession, so it was fun to share with everyone. So many amazing gifts, and everyone went home feeling like a princess.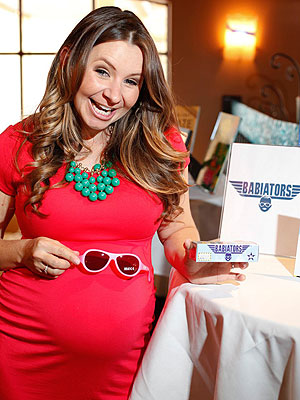 Baby rocks Babiators early – Lu Tapp Photography
I haven't been much for cravings but I do have one thing that I need every day — one sweet. So needless to say, I was a sucker for the Sweet Arleen's cupcakes (two-time winner of Cupcake Wars).
We had my favorite flavors — vanilla, chocolate, and the ultimate — red velvet. I LOVE CUPCAKES! They were so good, and I totally stole a few to take home with me. Shh. Don't tell.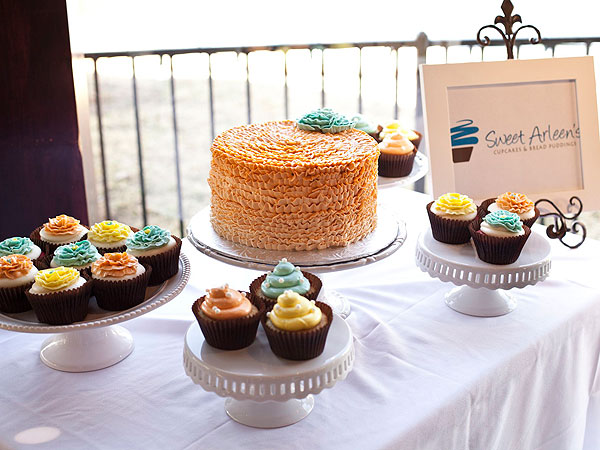 Never can have too many cupcakes – Lu Tapp Photography
All in all, this whole experience has been more than I could have ever imagined. The women in my life have shown up for me and my little one and surrounded me with such love and support that I have no doubt that I can do this, because I know that I will have help from my amazing friends and family.
It is quite remarkable how much confidence it has given me as I head into the most challenging role of my life. There is not an ounce of fear, just excitement of the unknown and the wisdom that there is no such thing as failure — you just love with all your heart and do your best. Knowing that I have the unwavering support behind me is the greatest gift of all.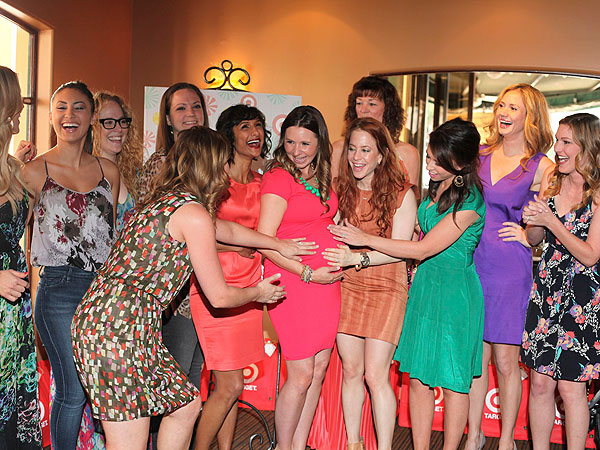 Everybody wants to touch the belly – Lu Tapp Photography
GALLERY: Beverley Mitchell's Chic & Cheery Baby Shower
— Beverley Mitchell
More from Beverley's PEOPLE.com blog series:
Beverley's baby shower was a sponsored event hosted by Target and produced by Good Carma Studio.