Constance Marie's Blog: The Days Are Long but the Years Are Short
Look who's back! We're thrilled to say hello again to Constance Marie, our original celebrity blogger!
The actress, mom to daughter Luna Marie, 4, with fiancé Kent Katich, stars on Switched at Birth, airing Mondays at 8 p.m. ABC Family.
She's also one of the celebrity voices narrating beloved children's stories for Little Golden Records, available now at Walmart.
Marie, 47, can also be found online on Facebook and @goconstance on Twitter. If you've missed any of her past posts, check them out here.
In her latest blog, the actress explains how her teenage costars helped her realize that Luna really is growing up fast.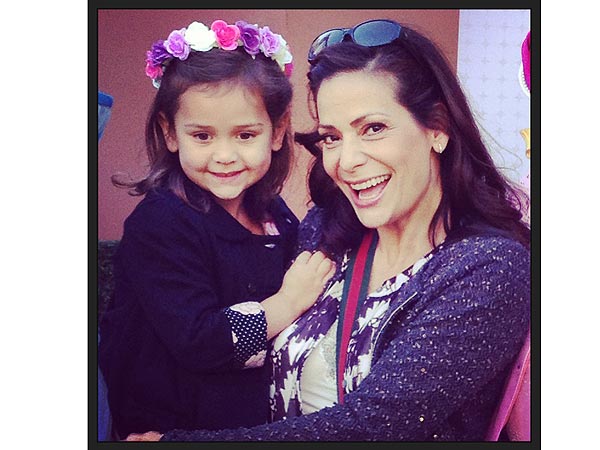 With my now 4-year-old – Courtesy Constance Marie

Okay, so by this time everyone knows I am an actress and also an older parent … and as an older parent I admit, I am A LOT more tired! Yes, my knees and back ain't what they used to be!
Sometimes I regret waiting so long to have a child, but I don't make the rules. The universe decided it was going to take me a while to get to be a mom! (Read my infertility blog if you have zero idea about what I speak.) Anyhoo!
I figure it is the quality of the years and not the quantity. I also realize that some of the amazing benefits of being an older parent are 1) I am a lot more patient than I would have been when I was younger and 2) I get to be like a sponge and LEARN from all my friends who are my age, and whose kids are teenagers or older!
I ask millions of questions … What, when, where and how did they navigate parenthood? Diapers? Teething? Schools? Doctors? And how the heck do I deal with teenagers?! (I hear they can be pretty scary, but if I know this ahead of time, then I know it's not just my kid who becomes a psycho and I can be more prepared!) Kinda like the CliffsNotes of parenting. It's pretty awesome!
But the one thing I hear from almost EVERYONE is, "They grow SO FAST!!" I mean, when I was a new parent I was like, "Fine, fine, FINE! Yes, I get it. It goes fast. I am sleep-deprived and exhausted, this is tough. Enough already!" But now my daughter just turned 4 and I am in shock! Holy crap, they were right!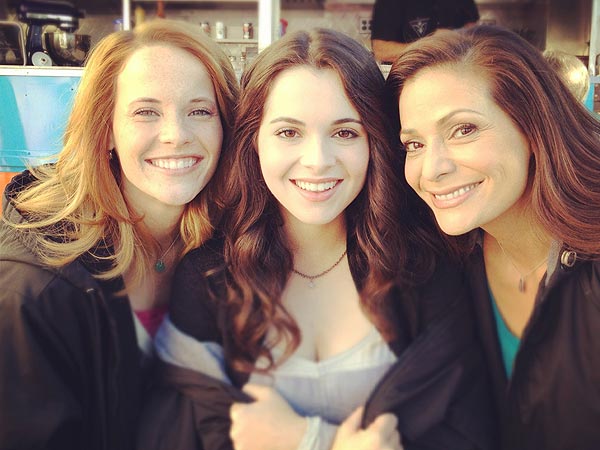 With my TV daughters Katie and Vanessa – Courtesy Constance Marie
The weird part? I play moms all the time! I have been doing this for many, many years! Before I had a baby, I was vaguely trying to understand being a mom (it's a hard concept to grasp, but I did my best). Now I'm a mom for real, and am also on a show, Switched at Birth, where I play the mom of not one, but two teenage girls. It is surreal! I'm doing scenes with teenagers by day and going home to my 4-year-old at night.
On the show, my job is to take the leap in my imagination and pretend these girls are mine. While shooting, I realize as I am doing scenes with these actresses, hugging and arguing with them, sharing mature girl time … THAT is a glimpse into the future with my daughter! It is mind-boggling to me that my daughter will one day be their size. Speaking like they do, wearing make-up and those clothes!
I've started missing my daughter's toddler years already. I swear, I even get teary-eyed. I go home and know that I will not always have to deal with the not-able-to-wear-a-princess-dress-in-a-rainstorm drama, or have that little body to cuddle or gently (or not-so-gently) plop into my lap during dinner time. Or give me "drop hugs" where she races at me and knocks me down to the floor (ow!) or insist that I stop mid-stride — while carrying massive amounts of groceries — to see the first star in the night sky and take the time to be fascinated by it.
All these sweet little girl moments — and even the crazy-making ones — will be gone.
Yes, I know new big girl/teenage/grown-up moments will all come and take their place, but these precious/exhausting times will be gone. And I will miss them SO FRICKIN' MUCH! I can now say from experience … IT GOES TOO FAST! I mean, the fact that I used to carry my daughter in a carrier and now she walks by my side seems simultaneously like yesterday and million years ago!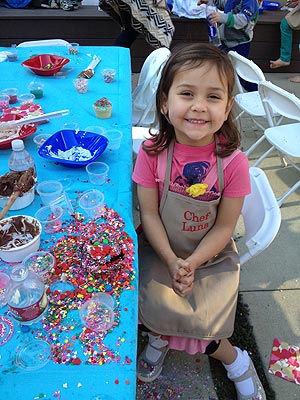 Cupcake decorating! – Courtesy Constance Marie
I have learned that I have to slow down and appreciate that my daughter still needs me, still wants me to help her negotiate everything in her life. I mean EVERYTHING! Be it a problem with sand in her shoes, the potty, teeth-brushing or asking me literally a zillion questions after she has seen a new kids TV show. Making me do voices for all nine dolls or play princess/doctor/kitty dress up for one hour while I have a headache at the end of a long day! I know I won't ALWAYS have the chance. There will come a time when she does not need or want me.
Because that is what we are trying to do right? Raise children who don't need us so much, who can make that big important decision for themselves.
Yes! I will totally and enthusiastically be there for her if she needs me! Or (gasp!) remembers to call me! (*insert tear here*) or who can go against the peer pressure if she feels it isn't right for her. Or who can do the right thing EVEN when no one is looking. Independence! But that means less cuddle time, less explaining, cajoling, urging, reprimanding, less everything. OMG. I'm gonna miss my baby so much!
I do already … especially when I am at work and see how independent and autonomous my pretend girls are! THAT is gonna be my daughter some day! Just like these young women! And I am gonna be so, so, so proud. But I will miss these baby years.
So all this to say: Whenever you are a new parent, or thinking about becoming one, or like me at one time, trying DESPERATELY to become one … let me be ANOTHER parent who tells you, "It goes really fast. Please take the time to stop and appreciate these little beings who won't be little forever."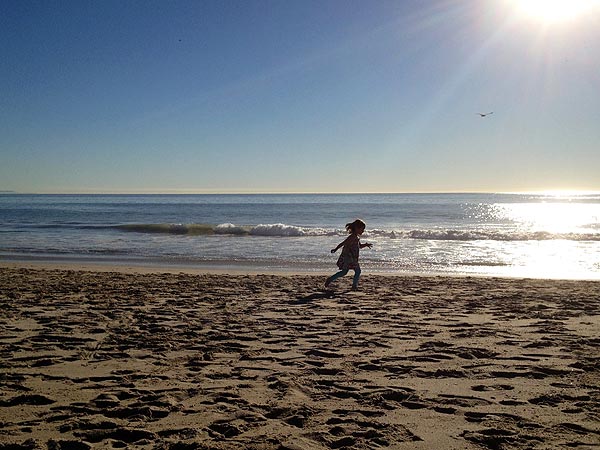 Running on the beach – Courtesy Constance Marie
Till next time…
— Constance Marie