Jane Lynch: My Greatest Pleasure Is My Stepdaughter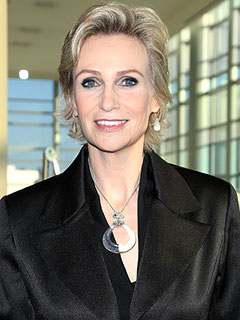 Alexandra Wyman/Wireimage
Jane Lynch has a whole lot to cheer about – in addition to having a top-three grossing movie, Escape from Planet Earth, she'll be making her grand debut on the Great White Way this spring, playing the infamous evil orphan matron Miss Hannigan in the newest Annie revival.
Great news for the star known for playing trash-talking cheerleading coach Sue Sylvester on Glee, but it pales in comparison to her real-life role as a stepmom.
"My greatest pleasure is Haden, my stepdaughter, " Lynch tells PEOPLE recently as she screened her film at The Moms Mamarazzi event in New York City. Lynch voices the character of IO alongside Sarah Jessica Parker, Jessica Alba and Sofia Vergara.
"I am surprised how much love you feel and how you would do anything for your children," she admits since marrying Lara Embry, a psychologist, in 2010.
The Emmy winner, who hits the stage May 16, jokes that "some may say I know a thing or two about playing intimidating authority figures," but says that she "knows how important love and acceptance is."
"I am in love and in awe with Haden. I like watching her walk through the world without fear," Lynch explains. "She happens to be an exceptional human being and one of the most fair, open-hearted, embracing people I have ever met — grownup or child."
Her brief foray into parenthood has already taught her many things, Lynch says.
"If one week your child wants to be an actor and the next day a fireman, encourage them. Seeing who your kids are as opposed to what you want them to be is important," she notes. "It's not up to you."
— Debra Lewis-Boothman