Alec Baldwin Is Busy Fulfilling Hilaria's Fruit Requests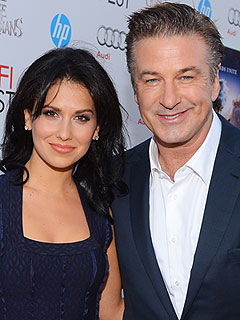 Mark Davis/WireImage
Fatherhood is nothing new to Alec Baldwin. But daddy duty later in life? Now that's a whole new playing field.
The actor, already dad to daughter Ireland, 17, and his wife Hilaria Thomas Baldwin are set to welcome their first child together in late summer — and Baldwin is busy taking in the experience.
"Being around a woman when she's pregnant and I'm older now — quite a bit older, actually — it's just really … it's amazing," he joked with David Letterman Monday.
"Like my wife, the pregnant woman, the hormonally-charged woman if you will – uh, it's thrilling. It's a thrilling thing to observe."
But the Orphans star, 54, isn't just sitting back and taking it all in; The future father-of-two is doing his part to keep his yoga instructor wife relaxed, happy — and full!

"She's been super fit her whole life and nutritionally very conscious. I'll say to her, 'You want to eat smart and keep up your nutritional values, but you gotta eat, you're having a baby,'" he explains. "I'll go, 'Do you want me to go get you some pineapple?' And she'll be like, 'I don't know.'"
While Thomas Baldwin may be unsure of what she's actually craving, Baldwin has been known to take matters into his own hands, heading out to the store to stock up on her favorite foods. And, as it turns out, his gut instinct that his pregnant wife could go for some fruit is typically proven true.
"There's a container of pineapple that will probably serve four people. I put it on the counter [and] I go, 'If you want some pineapple, here it is,'" he recalls of a recent episode.
"I go to the other room, I plug my phone in to charge it [and] sure enough I walk back — three quarters of the pineapple is gone and she's like, 'I was very hungry.'"
However, Thomas Baldwin is much more vocal when it comes to her constant bathroom breaks — or lack thereof. "My wife will be announcing, 'I have to pee every five minutes, I can't believe it!' Then I'm like, 'Well, we have four bathrooms in the apartment, so you're covered. We got a bathroom in every quadrant of the house at the ready, clean and freshly papered and everything good to go,'" Baldwin jokes.
"And then the next day she's like, 'I don't have to pee at all today. Something's wrong!' I'm getting whiplash here: pee, no pee…"
— Anya Leon