Miranda Kerr: One Child Is Good for Now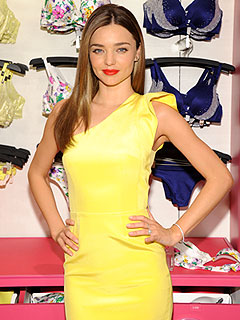 Jamie McCarthy/Getty
Miranda Kerr is having a blast with her young child. But that doesn't mean she wants another one — yet.
"I love motherhood," the Australian model, 29, tells ET Canada of life with Flynn Christopher, her 2-year-old son with actor Orlando Bloom.
And by the sounds of it, she's jumped into it headfirst.
"We have the schedule planned out for him," Kerr says. "We make sure he's doing his play dates, he's doing enough reading time, he's doing enough drawing and painting, arts and crafts and also a lot of fun time."
The latter can get a little goofy. "We like to dance," she says. "You know, turn the music up, dancing around the kitchen. It's one of our favorite pastimes."

Kerr says it's important to her to fully engage as a mom — to be "present with him when I am there, phones off, like the bonding one-on-one time."
Since she loves motherhood so much, will Kerr be giving Flynn a brother or sister some day? "Someday," she says, "but not right now."
— Tim Nudd