Tamera Mowry-Housley: It's Important to Let Post-Baby Body Pressure Go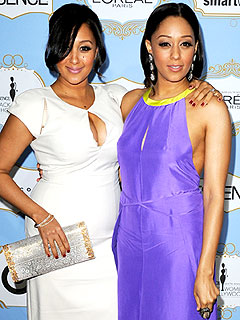 Scott Kirkland/Picturegroup
Stunning in a white dress by Black Halo, Tamera Mowry-Housley returned to the red carpet Thursday for the first time since delivering son Aden in November.
"I have all of these curves I didn't have before," the new mom — with twin sister Tia Mowry-Hardrict by her side at the Essence Black Women in Hollywood Awards Luncheon — tells PEOPLE. "I wanted to show them off!"
However, she admits her new figure did take some getting used to.
"When I see people like Claire Danes and Megan Fox I think, 'My body won't do that!' My boobs are in my face, I have stretch marks," Mowry-Housley, 34, says of the post-baby bodies of her fellow actresses.
"There's a lot of pressure, but you just have to just let it go."

Adds a Rachel Roy-clad Mowry-Hardrict, "After I had my son [Cree, 20 months], I looked at women like that and I questioned myself. I couldn't understand how people were on a beach in a bikini two months after they had a baby. I went to my OB-GYN because I thought something was wrong with me. I decided to look up to women like Pink instead. She took her time."
One of Mowry-Housley's tricks to feeling more comfortable is channeling Christina Hendricks. "She's a woman who knows how to show off her curves in a very positive and beautiful way," she notes.
"My husband [Adam Housley] keeps telling me to own my curves because he thinks it's sexy," adds Mowry-Housley. "I just birthed a human being and that was hard, so I am enjoying this. I want to represent a normal woman who just had a baby. This is who I am."
— Jessica Herndon