Kim Kardashian: I Always Thought Marriage Came Before Baby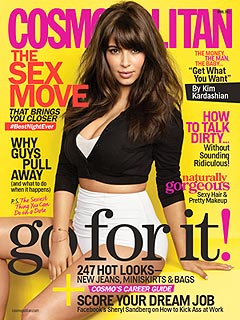 Courtesy Cosmopolitan
When sister Kourtney announced she was expecting her first child without having tied the knot, Kim Kardashian was quick to call her out on her family plan.
"I was like, 'You're not married! How could you do this?' I was really firm and strict," Kardashian, 32, recalls in Cosmopolitan's April issue.
It didn't take long, however, for the reality star to see that the couple's commitment didn't need to be cemented by a certificate.
"But she was like, 'Marriage isn't what I want.' And later, I realized she had a better family life than I did," Kardashian says.

Excited to start her own brood, Kardashian — who says kids have "always" been in her cards — looked at sister Khloé's marriage as a model and put herself on the fast track — only to realize good things come to those who wait.
"[Now] I say give it a good six months before you commit. Feelings change, even if it seems so lustful," Kardashian, whose divorce trial is scheduled for May 6, explains.
And now, four years after she confronted Kourtney, the mom-to-be finds herself in the same situation — and happier than ever.
"I used to think, 'Well, can you really have it all? The truth, the excitement and the passion?' Now I know you can," she shares.
Expecting her first child with Kanye West in July, Kardashian is looking forward to her growing family and — eventually — taking their relationship to a whole new level.
"This is where I probably always should have been … [marriage] is something I know that we both want in our future, but I don't have this sense of urgency about it," she says.
"I have this best friend who understands me and helps me through all my tough experiences, and vice versa, you know? It just feels like this is it for me."
— Anya Leon