Josh Duhamel: Seeing Fergie's Ultrasound Makes Pregnancy Real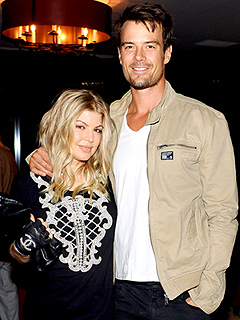 Stefanie Keenan/Wireimage
Josh Duhamel is ready for fatherhood, but says seeing wife Fergie's ultrasound makes the precious expectation of having his own child ever so real.
"It's very exciting. Seeing that ultrasound is unlike anything you've ever seen. You're like, 'Wow, it's mine,'" the actor tells Yahoo! omg! during a press junket for his new film Safe Haven.
The couple, who married in January 2009, announced their happy news via simultaneous Tweets on Monday.
Duhamel, 40, plays a father in his new film, but says time spent with family and friends' children have opened his eyes to the joys of parenting — even though he knows he has a learning curve ahead.

"I think that I've always had an affinity for kids. There's something about me and kids that just clicks," explains Duhamel, who is anticipating learning the daddy ropes on the job once the Black Eyed Peas frontwoman delivers their baby.
"I don't know if it's because I am a kid, but it does prepare you whenever you're around them," he adds. "I've got nieces and nephews and all my friends have kids. All that stuff is a learning experience for when it actually happens, but I don't think you're ever truly prepared until it's your own."
— Andrea Billups