Ian Ziering: Why My Pregnant Wife Pole Dances
Pregnancy does a body good. Then again, for Ian Ziering's expectant wife Erin, so does pole dancing.
The mom-to-be took up the sport following the birth of daughter Mia Loren, 22 months, when she found herself searching for a balance to all things baby.
"I think I got so wrapped up in the motherly world, I was looking for something to make me feel more womanly, more myself," Erin tells The Bump.
After a night out with her friends, among them a pole dance instructor, the first-time mom — who was already pregnant with the couple's second child — had her answer.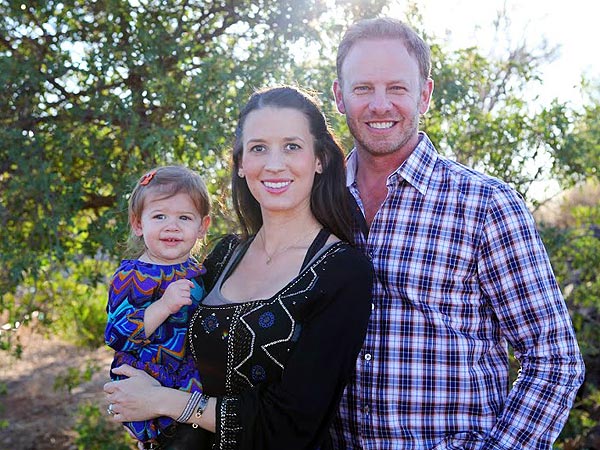 Courtesy Erin Ziering

"She was telling us that it will make you feel better about your body. It makes you feel more self-aware, and more confident, and that it helps with a lot of issues that happen after you have a baby," Erin says, adding that while safe, she was still advised to check with her doctor first.
"It's great exercise. I go once or twice a week, and it's girl time with my friends. We go out to dinner afterwards," she shares. "It's been a great experience, and it kept me in great shape during my pregnancy with a lot of extra energy."
But she's not the only one seeing the results of her new talent; Former 90210 actor Ziering is also benefiting from the mama-to-be's latest moves.
"I had some apprehension for Erin to be involved with that because, um, somehow in my past I've seen pole dancing, and I was concerned that a pregnant woman shouldn't be doing those kinds of things," he jokes.
Noting that her approach to the pole is "really from the workout perspective," Ziering admits the pay off has been big in other areas as well. "It helps her get in touch with her sensuality, with her femininity, and with her sexuality, and this is great!" he explains.
"It helps her stay positive when she starts to feel [bad about her body]. Being like, 'Yeah, I might be pregnant, but I'm making it look good!' And on top of that, she just gets a little sexier! I think it's great, and I'm really benefiting."
With the couple's second child due in May, Erin is ready for round two of baby bliss, determined to not let the anxiety of life with a newborn deter her from enjoying the experience.
"I felt like with Mia, I was always so nervous about everything, making sure I was doing everything perfectly and reading every book," she says. "I think this time will be nice because I know what's going on and I will be more relaxed."
Ziering and Erin's own childhoods allows the pair to be the perfect tag-team, although her medical background often tips the scale when it comes to making final decisions.
"We both benefit from growing up in very loving, nurturing environments. We come from similar upbringings," he says. "Because Erin is a nurse, there's a lot of credibility to her perspective of raising the baby that I really can't argue with."
He continues: "She'll say, 'I have looked into this,' and explain it and I say, 'Okay! You really have your finger on the heartbeat of child rearing,' because she does. We go with it."
Although he cherishes his recent role of a lifetime — dad! — fatherhood comes with its fair share of hardships. "I think the most challenging thing is keeping the stress level down during the times when the baby is inconsolable," Ziering, 48, admits.
"But I understand that this is all a part of the work, and this is what I signed up for, and that it's bond-building. I know that the view from the top is worth the climb."
Joking that life with a toddler has left her less than prepared for the big arrival — "I could be pregnant longer, and it would be okay!" Erin says — she's anticipating plenty of one-on-one time with baby after the birth.
"Mia will go to school for a couple of hours in the morning, and it will be a nice transition for her," she explains. "She'll be able to socialize, learn and be in a safe environment while I'm having bonding time with the new baby. We're looking forward to that."
Click here to read the full interview at The Bump.
— Anya Leon