Alana De La Garza: How My Son Plays with His (Unborn) Baby Sister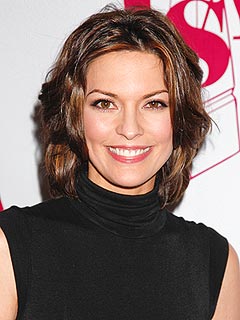 Imeh Akpanudosen/WireImage
Alana De La Garza's baby girl is already squeezing in plenty of playtime with her big brother.
One minor detail: She isn't even born yet! Well, that doesn't seem to faze the actress's 2-year-old son Kieran Thomas in the least.
"About two weeks ago, it was 6 a.m., [Kieran] crawled in our bed to cuddle. A minute later I feel his little fingers poking my belly button. I gently move them and tell him to rest," De La Garza, 36, tells Latina.
"Thirty seconds later, I feel him poking my belly again! I look over and say, 'Honey, what are you doing?' He looks up at me and whispers, 'I'm playing with the baby!' I melted."
Still undecided on a name, the mom-to-be is hopeful she and her husband Michael Roberts will be inspired upon meeting their daughter. However, that plan, she jokes, hasn't always worked out in the past.
"There's a short list [of names], but we figure when we see her little face, we will know," the Do No Harm star says. "Of course, Kieran didn't have a name for the first three days!"
Currently, De La Garza is concentrating on her cravings, which include an obsession with cucumber salad. But her healthful habits have been known to come up against her strong sweet tooth — especially in the middle of the night.
"It was raining and cold outside, but I couldn't think of anything else [except a strawberry toaster strudel]!" she recalls. "I got my glorious box and had to stop at devouring two."
She continues: "However, my self control didn't last … The box was empty within three days."
Although not completely confident in her Spanish speaking skills, De La Garza would love for her children to learn the language, but admits it may be her son — who's a big fan of Dora — doing the teaching.
"When he was just over a year old, he pointed to our Christmas tree and started repeating something over and over," she says. "He was getting frustrated because I wasn't understanding what he was saying. Ten minutes later I realized he was saying tree in Spanish!"
— Anya Leon