Alec Baldwin: I'm Experiencing Pregnancy Pains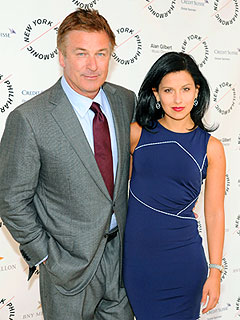 Andrew Toth/PatrickMcMullan.com/Sipa
Dad-to-be Alec Baldwin certainly sympathizes with his expectant wife Hilaria Thomas Baldwin — he's experiencing all the aches and pregnancy pains too!
"My boobs hurt. My boobs are killing me, so sore," the actor, 54, jokes with Extra. "My jeans don't fit. My pants, I can't buckle them."
But, according to Baldin, it's Thomas Baldwin — due with the couple's first child together late this summer — who has the crazy cravings.
"She was eating troughs of pineapple. I mean like tanker containers of pineapple," he shares.
Quips Thomas Baldwin, "I didn't eat pineapple before. It was bizarre. I really wanted pineapple."
With the recent series finale of his award-winning show 30 Rock, Baldwin is excited to dive into daddy duty full time. "My dream is to be home with the baby, standing in the doorway, saying goodbye to Mommy," he explains. "'Mommy is going to work now. Bye Mommy … don't work too hard!'"
While the newlyweds are still unsure of whether they'll be welcoming a son or daughter, either way it looks like Baldwin, already dad to daughter Ireland, will eventually be juggling more than one baby.
"I want to have at least one of each, so whatever this is going to be, I want to have the next one [be the opposite sex]," says Thomas Baldwin.
— Anya Leon