Melissa Joan Hart: Why I'm Happy I Waited For Another Baby
Age is more than just a number for mom-of-three Melissa Joan Hart.
The actress, who welcomed her second child, Brady, now 4½, two years after the birth of her first son, Mason, now 7, says waiting until both boys were older to expand her family further was ideal.
"It's definitely easier to have an infant when the other two boys are potty trained and can dress themselves," Hart, 36, told PEOPLE at Wednesday's Operation Shower event in Pacific Palisades, Calif.
"I'm able to enjoy every single minute, and that has been great."
Basking in baby bliss with her now 5-month-old son Tucker, Hart is embracing the opportunity to relive all of the major milestones for a third time.
"[Tucker] is just such a happy baby, lots of smiles and laughing. Like the other boys, he has great motor skills and right now it's fun to see him grab at things," she says.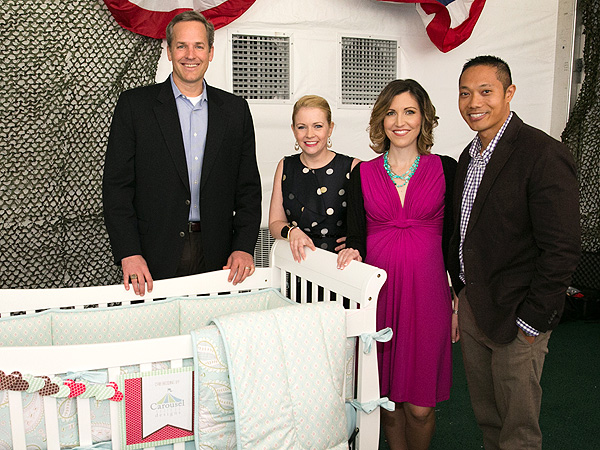 Eddie Spantman
Unlike his older brothers, however, Tucker is already sporting some long locks. "One of the biggest differences is that he has tons of hair," she says.
Having welcomed three children, Hart is adamant about celebrating every birth, which is why she has teamed up with Operation Shower and Birdies for the Brave, a mission to host baby showers for military families whose partners are serving overseas.
"I can't even imagine how difficult it is for these military moms going through pregnancy alone while their spouses are in harm's way. It's an emotional time, especially with all of the hormones," she says of the event, hosted by Carousel Designs.
"Operation Shower and Birdies for the Brave do a great job of making these moms feel special and recognizing all of their sacrifices at home. It's a sincere pleasure to support these two outstanding organizations."
With Valentine's Day on Thursday, Hart and her husband Mark Wilkerson are looking forward to toasting to some couple time — only she'll be phoning it in from the set of her show, Melissa & Joey.
"Valentine's Day is my first day back at work, so I will be enjoying the day with the great cast and crew," she says.
Continues Hart: "We usually celebrate the day before or the day after anyhow since it's difficult getting a babysitter that night and it's so crowded everywhere."
— Anya Leon