Gisele Bündchen Introduces Daughter Vivian Lake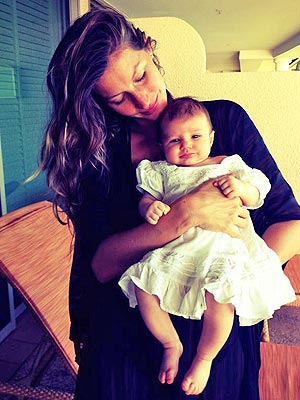 Courtesy Gisele Bündchen
Meet Vivian Lake Brady!
Gisele Bündchen introduces her and Tom Brady's 9-week-old daughter in a Facebook post Friday, sharing a photo as the family vacations in Hawaii.
"Love is everything!!!" the model, 32, writes. "Happy Friday, much love to all."
Born at home in Boston on Dec. 5, Vivian joins big brothers Benjamin, 3, and John, 5.
"We feel so lucky to have been able to experience the miracle of birth once again and are forever grateful for the opportunity to be the parents of another little angel," Bündchen and her New England Patriots quarterback husband, 35, wrote at the time.